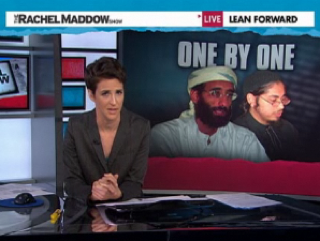 Candidate Sen. Barack Obama faced plenty of criticism for being wet behind the ears on national security issues, particularly in contrast to his war hero opponent. And yet the highlight of his tenure so far has been the near eradication of Al Qaeda. On last night's program, Rachel Maddow looked back on the Obama administration's terror victories and asks whether the fact that the two leaders killed this weekend had American citizenship should change the legal status of the attacks that killed them.
RELATED: When Horrible People Fight: Al Qaeda Wants Ahmadinejad To Stop Being A 9/11 Truther
Beginning her segment with the news that the once rosy relationship between Iran's Mahmoud Ahmadinejad and Al Qaeda have soured since the former became a 9/11 "truther," Maddow spent much of her segment discussing the nature of the citizenship of Anwar Al-Awlaki— US citizen by birth, but terror mastermind residing in Yemen for much of his life. Maddow notes that he was never charged with a crime in America, and was killed based on being "put on an assassination list that the President signed off on." Now many are asking whether this was sufficient due process under the Constitution.
For maddow, the attacks that killed Al-Awlaki et al had two major consequences in terms of policy: highlighting the fact that terror was "not a foreign threat, but a transnational threat," and bringing up the question of "whether or not US citizenship should protect you from the extraordinary tactics the US has used to fight Al Qaeda." To explain more on the latter front, Maddow brought on Wired's Spencer Ackerman, who notes that the law under which the President executed the Al Qaeda leaders gives no special privileges to citizens– "it is an exceptionally broad mandate from Congress" that doesn't do much to stop the President from unilaterally targeting people.
RELATED: President Obama Comments On Death Of Anwar Al-Awlaki
The segment via MSNBC below:

Have a tip we should know? [email protected]