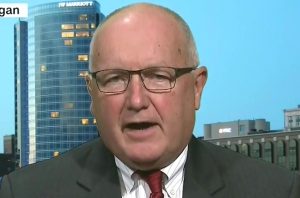 One of the frontrunners for the CIA director position under President-election Donald Trump won't say in an interview with CNN's New Day whether he supported bringing back waterboarding, noting that he did support it under the Bush administration.
CNN host Alisyn Camerota asked former Chairman of the House Intelligence Committee Pete Hoekstra his views on waterboarding. "Congress has spoken on that. At this point in time, you can't do it," he replied. "If there was a decision to move in another direction and to perhaps do that, that would be a process that you would have to work through with Congress, and you'd probably do it in secret and you wouldn't do it through the public process."
"But are you personally comfortable with using waterboarding as a tactic?" Camerota asked.
"You know, I was part of the Gang of Eight back in 2004, when Republicans and Democrats on the Hill were briefed about this practice. It never took place while I was on the Gang of Eight, but at that point in time we as a Gang of Eight, Republicans and Democrats, supported President Bush using those tactics…" Hoekstra responded.
"So, moving forward in the future, that's a hypothetical and we'll get there–" he continued.
"No, it's not hypothetical," Camerota pushed back. "I'm actually asking what your position is. You have a position. What I hear you saying is that you were part of the gang that supported using it, you would be okay with it."
"I was part of the gang, which included Nancy Pelosi and others that supported that back in 2003/2004, yes," Hoekstra agreed,
"And do you still support it?" Camerota tried again.
"Well, again, you have to take a look at specifically what is going on and what the circumstances are at any given situation as to where you would use it," he said. "I think that this will be a clear discussion between this administration and Congress to develop a long-term strategy in terms of how do we get the information that a president and a Congress needs to make the right decision to keep America safe."
Watch above, via CNN.
[Image via screengrab]
—
>>Follow Alex Griswold (@HashtagGriswold) on Twitter
Have a tip we should know? tips@mediaite.com