Kirsten Powers Calls McDermott 'Appalling' In Attacking IRS Targets, Clashes With O'Reilly Over IRS WH Visits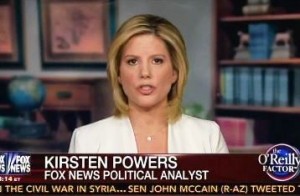 Bill O'Reilly was fired up tonight over Democratic congressman Jim McDermott using the testimony of tea party group leaders targeted by the IRS to dismiss the whole thing as political theater, and a contentious follow-up interview today he had with Fox's Megyn Kelly. Kirsten Powers agreed that McDermott went over the line, telling O'Reilly that the congressman's behavior was "appalling."
McDermott challenged the tea party leaders in attendance on the political activities of their groups, but Powers dismissed that as an irrelevant topic. She said, "He can't just say it's okay to treat you guys this way… because you guys take political positions that I disagree with." She also pointed out that just taking a position is not in itself political, that a political act is more about getting people elected.
RELATED: The Five Slams 'Out Of Touch' 'Old White Guy' McDermott For 'Blaming' Tea Party Groups In IRS Scandal
O'Reilly had no doubt McDermott wouldn't be as outraged if the shoe was on the other foot and it was liberal groups being targeted. He scolded McDermott for how he acted during his interview with Kelly, boasting he would not be so kind on the congressman if he were interviewing him.
O'Reilly and Kate Obenshain both tore down the liberal excuse that liberal groups were targeted under Bush, with O'Reilly saying more right-wing groups than liberal ones were targeted in 2004, and admitting he was audited three separate times under Bill Clinton. Obenshain stated that the IRS has now admitted to targeting groups "because they oppose Obama's philosophical perspective," so it's ridiculous to claim at this point that it wasn't political.
When O'Reilly brought up the 157 White House visits by former IRS commissioner Douglas Shulman, Powers pushed back, telling O'Reilly he's "totally off." O'Reilly slyly asked Powers why she wouldn't want the logs to be released just so "you can be right." Powers insisted that the logs show the meetings were about Obamacare, and Shulman only showed up eleven times. O'Reilly insisted, "They have it, they won't release it, that's the bottom line."
Watch the video below, courtesy of Fox News:

—–
Follow Josh Feldman on Twitter: @feldmaniac
Have a tip we should know? tips@mediaite.com
Josh Feldman - Senior Editor