Prepare for Tonight's Colbert-Trump Showdown by Watching Colbert's Best Trump Roasts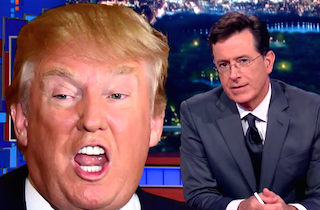 Stephen Colbert's big guest tonight is Donald Trump, and those familiar with Colbert's interview style are anticipating something a little different than Jimmy Fallon's mirror sketch.
If Colbert's discussion with Ted Cruz last night is any indication, Colbert wants to extend an open hand to Republicans and show them due courtesy.
That being said, Colbert has roasted The Donald plenty of times in the past few years (and . Hell, he was making fun of him just last night. And so here below are some of Colbert's biggest Trump-roasting moments from The Colbert Report to The Late Show.
Difference Makers
Back in 2008, Colbert profiled Trump as a "difference maker" for erecting a giant American flag pole at the Trump National Golf Course in California and fighting officials telling him he was violating the law. The segment mocked Trump as a generally humble and shy man, as well as getting him to say he doesn't know what the stripes on the American flag stand for.
Stephen Colbert's Serious, Classy, Republican Debate
Anyone else remember when, for a few weeks in late 2011, Trump announced he'd be hosting a Republican debate? Well, Colbert not only one-upped him with a mock debate announcement, but he challenged Trump's voice and persona for the entire thing.
Million-Dollar Offer
This is probably Colbert's most famous Trump roasting from The Report, and for good reason. In the final weeks of the 2012 campaign, Trump's big "October surprise" was an offer to donate $5 million to the charity of President Obama's choice if he unveiled his college records. So Colbert countered with a $1 million offer to donate to a charity of Trump's choice if he
And the Million-Dollar Follow-Up
And when Trump extended that offer to Obama, Colbert responded in kind.
Announcement Announcement

During the summer, Colbert wasn't back on TV yet when Trump announced his candidacy, and so he couldn't resist doing the above YouTube video doing an all-out mockery of the rambling announcement.
C is for Cookie

On Colbert's first show earlier this month, he wasted no time not only mocking Trump, but mocking the media's urge to talk about nothing but Trump with an Oreo analogy.
Leadership

Colbert had some fun with Trump after he stumbled over foreign policy in his now-infamous interview with Hugh Hewitt, declaring that Trump will be "ready on day one… to prepare for day two."
Debateapalooza

In breaking down last week's GOP debate, Colbert poked fun at both Trump and how much the debate was centered around the stuff he's said.
Check back on Mediaite for coverage of Trump's Late Show appearance tonight.
[image via screengrab]
— —
Follow Josh Feldman on Twitter: @feldmaniac
Have a tip we should know? [email protected]
Josh Feldman - Senior Editor