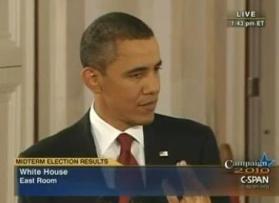 By now we've all heard Pres. Barack Obama's ditch analogy, and most people had a general idea where he was going when he used it during stump speeches over the past couple weeks (others, however, don't get it).
During Pres. Obama's presser this afternoon, CNN's Ed Henry asked about the analogy, and Pres. Obama was ready with some post-election losses revisions.
He started in much the same way, saying that Americans know "we're still digging our way out." But what about all those GOP pick-ups. Are they really in the backseat, having their keys taken away by the Democrats, sipping Slurpees etc? Here's the President today:
I think what they want right now is Democrats and Republicans both pushing some more to get the car on level ground. And we haven't done that. If you think I was engaging in too much campaign rhetoric, saying the Republicans would just sit on the side of the road watching us get that car out of the ditch, at the very least we were pushing in opposite directions.
So basically, Republicans and John Boehner, just because you won one House of Congress doesn't mean you get the keys. But if you'd like to help push the car out, please come help. And then once the car is back on level ground, we'll have to fight it out to see who gets to drive. How about we do that in 2012?
Here's the ditch Q&A:

—–
» Follow Steve Krakauer on Twitter
Have a tip we should know? tips@mediaite.com