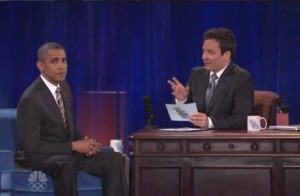 Sitting down with Jimmy Fallon, President Obama exchanged some jokes about his college years and Bo on Tuesday night — while also spotlighting the issue of rising interest rates on student loans.
Complimented on having a beautiful house, Obama joked, "It's a rental." Then Fallon noted that Obama's surrounded by women in his house. Obama replied, "It's basically me and Bo." They go to the presidential man cave and grab a couple of beers. Nonalcoholic for Bo, Fallon reminded.
Asked about what makes him laugh, aside from Fallon's show obviously, Obama said he loves the movie Groundhog Day, adding, "which I realize came out before these guys were born."
"Do people ever send you links from YouTube?" Fallon asked. They do, Obama said. "Dancing bears, and kitty cats and things. Although, there is one my staff showed me recently by these guys Key & Peele on Comedy Central. They have a guy who imitates me pretty well."
Later in the interview, Fallon asked about Obama's college years — and whipped out an old-school photo of Obama, complete with afro and jacket from Goodwill. The two bonded over his futon (a very important college purpose) and poked fun at the wilting plant in the corner of the photo.
Fallon wondered if Obama ever gets the giggles with the First Lady. "We get the giggles all the time," he said.
The following segment took a more serious turn, pivoting to the issue Obama has been promoting: rising interest rates on student loans. "The single most important investment young people can make remains a college education," Obama said. "The challenge is, it's getting more and more expensive." The issue is particularly personal, he said, because he and Michelle Obama financed their own college and law school educations. We "didn't finish paying off student loans until 8 years ago. And now I'm President of the United States. So it worked out," he added.
Fallon said paying on loans is a great feeling to which Obama also noted, it's like "finding money in the couch." What can students do? Interest rates are scheduled to go up, unless Congress acts, Obama said. So they should contact their representatives, tweet at them, etc. Then, Fallon asked what Obama would pass if he could snap his fingers and bypass Congress. Along with education system, Obama said, "another big piece of business is energy."
Finally, Obama took some questions from Twitter. First up, a question from Bobo: "Are you going to legalize weed or what?" The president replied, "We are not going to legalize weed or what anytime soon." How is "the smoking thing going?" Fallon asked. Obama said, "I'm all done."
Next Twitter question: "If Mitt Romney was in the room with you right now, what would you say to him?" Obama responded, "I'd say, 'Hey Mitt.'" He added, "I've met him. But we're not friends. You know, he seems like somebody who cares deeply about his family, and his wife is lovely."
Another: "When my teenagers ask me why I'm voting for you over Romney, what do you think I should tell them?" Perhaps a Twitter answer would be most appropriate? Obama's off-the-cuff tweet response: "Let's move forward, not backward. I believe in young people, and I'm going to fight for you."
Take a look, via NBC (Part 1):

Part 2:

Part 3:
Part 4:
Part 5:
Part 6:
Have a tip we should know? tips@mediaite.com