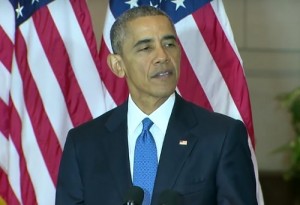 President Barack Obama used his Wednesday speech commemorating the 150th anniversary of the Thirteenth Amendment's abolishment of slavery to subtly denounce Republican presidential candidate Donald Trump's proposed Muslim ban.
"We gather here to commemorate a century and a half of freedom," Obama said before adding: "Not simply for former slaves, but for all of us."
He continued with reference to American slavery, the Civil War and the fact that "150 years [since the 13th Amendment] proved the cure to be necessary but not sufficient. Progress proved halting, too often deferred. Newly freed slaves may have been liberated by the letter of the law, but their daily lives told another tale."
It was towards the end of the nine-minute speech that Obama made a veiled jab at Trump's proposed ban on all Muslim immigrants.
"To remember that our freedom is bound up with the freedom of others. Regardless of what they look like, or where they come from, or what their last name is or what faith they practice."
Politicians, media personnel and others in attendance had already been cheering any several of the president's final comments, but his "what faith they practice" line spurred a standing ovation from most of the room.
Obama obviously didn't mention Trump by name. Nor did he reference the immigration proposal and the religion of Islam. Regardless, the intended targets and meanings behind the president's comment are quite clear.
"We betray our most noble past if we were to deny the possibility of movement and the possibility of progress. If we were to let cynicism consume us and fear overwhelm us."
Check out the clip above, via CNN.
[Image via screengrab]
— —
>> Follow Andrew Husband (@AndrewHusband) on Twitter
Have a tip we should know? tips@mediaite.com