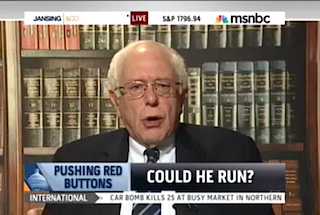 Senator Bernie Sanders (I-VT) appeared on MSNBC Friday morning to discuss yesterday's landmark vote to curtail the filibuster process in the Senate, but ended up stoking rumors about his own future when he said he would be open to a presidential run in 2016.
The latest round of speculation began earlier this week when Sanders first expressed his "consideration" on Thom Hartmann's radio show and then told his local Burlington Free Press that he's "willing to consider making a run if no one else with progressive views similar to his ends up taking the plunge." When MSNBC's Chris Jansing asked the senator about his plans Friday, adding, "a lot of liberals would love you to put your hat in the ring," he reiterated the sentiment.
After reviewing his core issues of the disappearing middle class and income inequality, Sanders said, "These issues have got to be addressed. It will be a great disservice to the political process and the American people if someone is not standing up for working class people and the middle class. Am I the only person talking about those issues? Absolutely not. Might there be better people? Yes, there might."
Jansing followed this answer be asking whether his decision might be affected by the presence of presumed frontrunner Hillary Clinton or Vice President Joe Biden in the race.
"It's not the individual, Chris, it's the issues. The collapse of the middle class and growing wealth and income inequality must be discussed. Can other people do it? Absolutely. If nobody else is going to do it? You know what, I would be prepared to do it."
At 72, Sanders is older than both Clinton and Biden, and would be 75 on Inauguration Day 2017, a full 6 years older than the previous oldest-elected President Ronald Reagan. Then again, Sanders himself delivered an eight and half hour "filibuster" speech against the extension of the Bush tax cuts in 2010 at the age of 69, so that should say something about his stamina and drive.
Watch video below, via MSNBC:
[photo via screengrab]
— —
>> Follow Matt Wilstein (@TheMattWilstein) on Twitter
Have a tip we should know? [email protected]