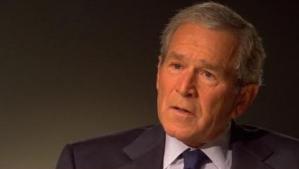 President George W. Bush's hour long special with Matt Lauer, which will serve in many ways as a promotional tool for his book, addressed the 'decisions' surrounding all aspects of his eight-years in office.
But the issue he will most closely be tied is 9/11 – and he talked about the day of, and days after, with Lauer.
Lauer started with that moment he was told about the second attack by Andy Card, and the critics who questioned sitting in the classroom for seven minutes. "I made the decision not to jump up and create a chaotic scene," he said. "I'm not going to debate the critics as to whether or not I was in shock or not. I wasn't."
Then there was the moment a couple days later at the National Cathedral. After speaking, he returned to his seat, and his father, former Pres. George H.W. Bush, leaned over and touched his hand. Bush called it "very powerful" and a "very touching moment" – in fact, a theme of the special was how emotional he got when discussing his parents, and especially the idea of making his father proud.
Quite possibly the enduring image of Pres. Bush will be his first visit to Ground Zero. "I believe in justice not revenge, and I was overwhelmed by the palpable anger and emotion," he said of workers at Ground Zero. As he took the megaphone for the famous, impromptu line, he described the sentence that precipitated it: "we can't hear you." "It wasn't kind of a soft 'we can't hear you,'" Bush told Lauer.
We'll get the ratings for the special shortly – and Bush will be on the Today show with Lauer live tomorrow. Here's the 9/11 segment:


—–
» Follow Steve Krakauer on Twitter
Have a tip we should know? tips@mediaite.com