'President' Glenn Beck Expresses Solidarity With The Japanese In 'Oval Office Address'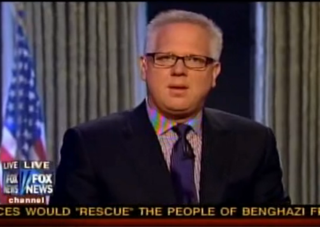 Glenn Beck just broadcast an image straight out of the Tea Party's best dreams and his liberal detractors' worst nightmares. Unsatisfied with President Obama's statements on the massive devastation in Japan, Beck decided to take a shot at delivering an "Oval Office Speech," praising the Japanese for their resilience and imploring Americans to compete harder against their good allies.
Giving SNL plenty to splice into a new fake disaster movie trailer, Beck set up a makeshift "Oval Office" composed of a desk and a flat-screen TV with an Oval Office background on it ("this is as close as we can get to it," he admits). While, before launching into his speech, Beck himself admits that President Obama has made repeated statements on the disaster happening there, he also argues these simply didn't suffice. "There is a much more important speech that I feel is missing," Beck explained. "This is one of our closest allies." His central point, it seems, is that Americans "are not helping at the level we should. And I don't mean the government– I mean us." Fearing the possibility that Americans will not donate to private charity because the communitarian message of the White House would lead them to wait for the government to do it, Beck gave a night-time speech to solve the problem.
The speech begins with a detailed account of the devastation in Japan, from the earthquake to the tsunami to the nuclear disaster. It then takes a turn toward the positive, highlighting the spirit of the Japanese people and praising them for their free market economic success. "In fair and honest competition, they have, at times, beaten us," President Beck cedes, "but they have taught us a lesson on doing so." Noting that "each of us will grow stronger in friendly competition," he asked of the American people their best efforts in work and at home, and to take a lesson on morality from the Japanese's "culture of respect," which has led to little to no looting since the earthquake. "When has that puzzled us?" Beck asked. "It says a lot. Not about them– about us."
Beck isn't the first pundit to imagine himself in the White House (this has been one of Rachel Maddow's preferred tactics, as well), but the repeated self-impositions by pundits feeds into a meme that works quite well for many who don't have much praise for the President's alleged inaction– that the President is idle, barely there. Of course, this is much easier to claim when sticking to a conception of the President as inexperienced as weak, but Beck can't have his cake and eat it, too. If the President is as dangerous and powerful as he claims– and if the network of socialists surrounding the White House is as potently poisonous as the average Beck watcher has likely come to believe– he can't also be meek and useless.
Beck's speech via Fox News below:

Have a tip we should know? tips@mediaite.com