President Obama Announces 'Keep Your Plan' Fix: Permit One Year Extension of Cancelled Plans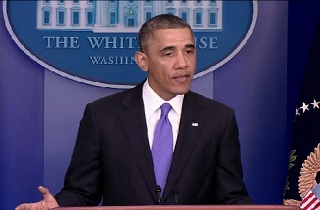 Since his apology to Chuck Todd over the promise that "If you like your plan, you can keep your plan," President Obama and his team have been going over a "range of options" to address those who feel they've been disadvantaged by the rollout of Obamacare, even as legislators in Congress form their own competing fixes. A day ahead of a House vote on such a measure, the President announced his proposal in a statement to reporters in the Brady Briefing Room Thursday morning.
President Obama began by delivering brief remarks on the unfolding tragedy in the Philippines, and U.S. measures being taken to assist in the aftermath of the super-typhoon that hit the region over the weekend.
He then began to speak about the problems with the rollout, but went over some of the enrollment figures that he said "haven't been as well-reported."
The President also addressed the problems with the Obamacare website, Healthcare.gov. "It's gotten a lot better over the last few weeks than it was on the first day," Obama said, "but we're working 24/7 to get it working for the vast majority of Americans in a smooth, consistent way."
President Obama then addressed the cancellation letters. "The other problem that has received a lot of attention concerns Americans who have received letters from their insurers that they may be losing the plans they bought in the old individual market, often because they no longer meet the law's requirements to cover basic benefits like prescription drugs or doctor's visits," he began. "As I indicated earlier, I completely get how upsetting this can be for a lot of Americans, particularly after assurances they heard from me that if they had a plan that they liked they could keep it. And to those Americans, I hear you loud and clear."
The President described the existing grandfather rules, and added "Today we're going to extend that principle both to people whose plans have changed since the law took effect, and to people who bought plans since the law took effect. So state insurance commissioners still have the power to decide what plans can and can't be sold in their states, but the bottom line is insurers can extend current plans that would otherwise be cancelled into 2014, and Americans whose plans have been canceled can choose to re-enroll in the same kind of plan."
"We're also requiring insurers to extend current plans to inform their customers about two things," he continued. "One, that protections — what protections these renewed plans don't include. Number two, that the marketplace offers new options with better coverage and tax credits that might help you bring down the cost. So if you received one of these letters, I'd encourage you to take a look at marketplace, even if the website isn't working as smoothly as it should be for everybody yet, the plan comparison tool that lets you browse cost for new plans near you is working just fine."
President Obama conceded that "this fix won't solve every problem for every person, but it's going to help a lot of people," noting that "doing more will require work with Congress."
He also added that "It's important that we don't pretend somehow that's a place worth going back to. Too often it works fine as long as you stay healthy. It doesn't work well when you're sick. So year after year, Americans will routinely expose to financial ruin or denied coverage due to minor preexisting conditions, or dropped from coverage altogether even if they've paid their premiums on time. That's one of the reasons we pursued this reform in the first place. And that's why I will not accept proposals that are just another brazen attempt to undermine or repeal the overall law, and drag us back into a broken system."
"We're going to do everything we can to help the Americans who have received these cancellation notices," the President concluded, "but I also want everybody to remember there are still 40 million Americans who don't have health insurance at all. I'm not going to walk away from 40 million people who have a chance to get health insurance for the first time, and I'm not going to walk away from something that has helped the cost of health care grow at its slowest rate in 50 years."
The President's plan calls for an administrative adjustment allowing insurance companies to extend cancelled pre-ACA policies for an additional year, but requires insurers to notify those consumers of the other options available to them, and of the benefits and protections that their old plans will not include. The President's plan is more narrow than that being proposed by the House, but falls short of guaranteeing that consumers can "keep their plan" because while it allows insurance companies to continue pre-ACA plans, it does not require them to do so. Unlike the legislative proposals under consideration, the President's plan will be accomplished through adjustments to the Department of Health and Human Services regulations on grandfathered health plans.
Here's video of the President's statement, from Fox News:
Have a tip we should know? [email protected]