President Obama Announces Recess Appointment Of Consumer Watchdog Richard Cordray
Obama Announces Recess Appointment Of Consumer Watchdog Richard Cordray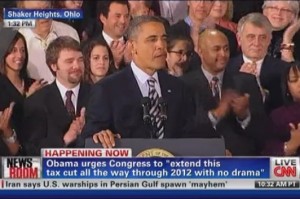 During a speech in Shaker Heights, Ohio this afternoon, President Obama announced the resolution of a long-running battle with Senate Republicans over the blocked confirmation of Richard Cordray to head the Consumer Financial Protection Bureau. As part of a campaign to roll out a series of executive actions, the President announced that he is bypassing the Senate, and installing Cordray via a recess appointment.
Republicans blocked the President's first choice for the job, Massachusetts candidate for U.S. Senate Elizabeth Warren, and have been blocking Cordray's nomination since it was announced. The newly-formed agency was unable to exercise its full statutory authority while that role remained vacant.
After speaking about his recent success at passing the payroll tax cit extension, the President announced his decision on Cordray.  "Today I'm appointing Richard as America's consumer watchdog," President Obama said, describing Cordray's role, and taking a shot at Republicans:
I nominated Richard for this job last summer. So you may be wondering why am I appointing him today? It would be a good question.

For almost half a year, Republicans in the Senate have blocked Richard's confirmation. They refused to even give Richard an up or down vote.

Now, this is not because Richard's not qualified. There's no question that Richard is the right person for the job. He's got the support of Democrats and Republicans around the country. A majority of attorney generals, Richard's a former attorney general, a majority of attorney generals from both parties, across the country, have called for Richard to be confirmed. Your local members of congress who are here today, they support him. He has the support of a majority in the senate. Everyone agrees Richard is more than qualified.

So what's the problem, you might ask. The only reason Republicans in the Senate have blocked Richard is because they don't agree with the law that's set up a consumer watchdog in the first place. They want to weaken the law. They want to water it down.
The President's move sets up a showdown of sorts with Senate Republicans, who argue that the appointment isn't legitimate because the upper chamber has held periodic pro forma sessions in order to keep the Senate technically out of recess, in order to block just such an appointment. This is exactly the kind of bold move that many of the President's supporters, weary of fruitless attempts at compromise, have been clamoring for.
Here's the video, via CNN:
Have a tip we should know? tips@mediaite.com