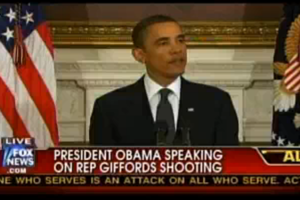 After releasing a statement earlier today, President Obama spoke to the nation today, reassuring that he had spoken to Arizona Governor Jan Brewer and offered all necessary federal help and asking Americans to pray for the victims of the shooting.
The President gave an update on the situation (our report on the victims here) and confirmed that the "suspect is currently in custody, but we don't yet know what provoked this unspeakable act." He spent more time, however, discussing Rep. Giffords herself, calling her a friend, describing her as "warm and caring, she is well-liked by her colleagues and well-liked by her constituents." He also highlighted the gravity of the tragedy relative to the way American democracy functions:
It's not surprising that today, Gabby was doing what she always does– listening to the hopes and concerns of her neighbors. That is the essence of what our democracy is all about. That is why this is more than a tragedy for those involved. This is a tragedy for Arizona and a tragedy for our entire country. What Americans do in time of tragedy is to come together and support each other, and so at this time I ask all Americans to join Michelle and I in keeping all the victims, and their families, including Gabby, in our thoughts and prayers. Those who have been injured, we are rooting for them, and I know Gabby is as tough as they come, and I'm hopeful that she is going to pull through.
The President's statement via Fox News below:

And the President's initial statement:
This morning, in an unspeakable tragedy, a number of Americans were shot in Tuscon, Arizona, at a constituent meeting with Congresswoman Gabrielle Giffords.  And while we are continuing to receive information, we know that some have passed away, and that Representative Giffords is gravely wounded.

We do not yet have all the answers.  What we do know is that such a senseless and terrible act of violence has no place in a free society.  I ask all Americans to join me and Michelle in keeping Representative Giffords, the victims of this tragedy, and their families in our prayers.
Have a tip we should know? tips@mediaite.com