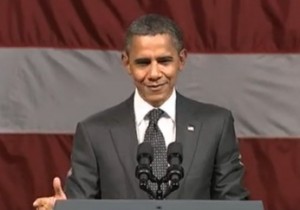 During an appearance at a Los Angeles fundraiser, Barack Obama was interrupted by a heckler who reportedly called the sitting president "Antichrist" before repeatedly yelling "Jesus Christ is savior!" Attendance at the event reportedly cost between $250 and $10,000 which afforded party-goers a chance to "rub elbows" with the Commander-in-Chief at the West Hollywood House of Blues. Just as Obama started speaking from the dais, however, the unnamed heckler interrupted president who seemed amused and calm throughout the disruption.
AP's brief write-up of the incident describes it as such:
It happened at the House of Blues in Los Angeles Monday night.

The man positioned himself up in front of the stage and started shouting loudly right after Obama started talking. The heckler proclaimed that "Jesus Christ is God" and a Christian God. According to Real Clear Politics, the outburst was met with boos from the crowd at the event.

Obama stopped talking. Then after a moment the crowd started chanting "Four more years! Four more years!" and drowned out the heckler.
Its fair to say that, regardless of one's political opinion, most patriotic Americans don't like seeing their President being heckled; though it is demonstration of a U.S. citizen's inalienable rights, it seems both distasteful and disrespectful for the individual holding highest office.
That said, the way that Obama reacts to the heckler is, unto itself, rather entertaining. He clearly is unfazed by the interruption, stopping his speech so that the nearby heckler can finish yelling. He even goes so far to agree with the heckler regarding his position on Jesus Christ before making sure that he doesn't leave his jacket behind.
Watch the clip below, courtesy of AP:
Have a tip we should know? tips@mediaite.com