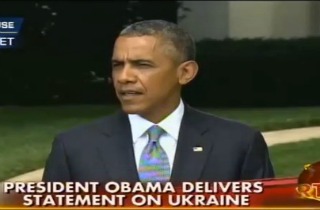 President Barack Obama on Monday stopped just short of accusing pro-Russia separatists in Ukraine of covering up their potential involvement in the shooting down of a commercial Malaysian airliner last week.
Obama said in a statement that the separatists have been tampering with the crash site, removing some of the wreckage before international investigators can examine the area. "What exactly are they trying to hide?" Obama said.
Obama also pointed fingers at Russia and Russian President Vladimir Putin, accusing them of enabling the separatists.
"Russia has extraordinary influence over these separatists," Obama said. "Russia — and President Putin in particular — has responsibility to compel them to cooperate with the investigation. That is the least that they can do."
Obama said "time is of the essence" for Putin to "get serious" on Ukraine. "My preference continues to be finding a diplomatic solution within Ukraine," Obama said, referring to the ongoing military conflict in the region. "But if Russia continues to violate Ukraine's sovereignty and to back these separatists and these separatists become more and more dangerous, and not only are a risk to the people inside Ukraine but the broader international community, then Russia will further isolate itself from the international community and costs for Russia's behavior will only continue to increase."
Obama echoed some of the remarks he made last week regarding the airliner, saying that the "immediate focus" is on "recovering those lost, investigating what happened and putting forward the facts."
All 298 people aboard the flight, including one American, died in the crash.
[Image via Fox News/screen grab]
— —
>> Follow Eddie Scarry (@escarry) on Twitter
Have a tip we should know? tips@mediaite.com