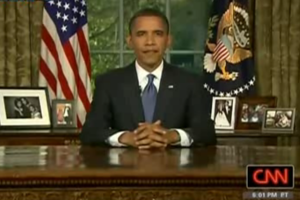 Tonight, after more than fifty days of gushing oil, environmental destruction, and being called both too angry and not angry enough, President Barack Obama addressed the nation from the Oval Office to explain in detail what his administration is going to do to help remedy the tragedy on the Gulf coast, prevent similar disasters in the future, and make BP pay for the damage they have done on our shores.
The message had one very clear goal: to assure the American people that the federal government was working hard to do everything in its power to save as much of the Gulf as possible, and give Americans hope that the end is near. Citing the work of his Energy Secretary Steven Chu-led commission, he promised that "90% of the leak could be stopped by next week," and promised that "We will fight this spill with everything we've got for as long as it takes. We will make BP pay." He also put the federal response in numbers: nearly 30,000 personnel, with over 17000 national guard. There were tons of technical details in the short-term, and, for those who were against it, an explanation on his 6-month moratorium on drilling– for safety. "We need to know the facts before we allow deep-water drilling to continue."
He also attacked the Mineral Management Service as "emblematic of a failed philosophy that views all regulation with hostility," called for a transition of green jobs which America must "act as one nation" on, and ended the speech with a prayer for the people of the Gulf.
Full video of his address below:
Have a tip we should know? tips@mediaite.com