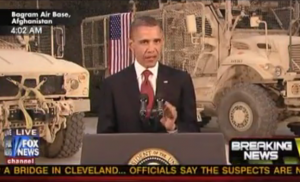 During his unannounced visit to Afghanistan — on the one-year anniversary of Osama bin Laden's death — President Obama addressed the nation from Bagram Air Force Base. Signaling a shift, Obama cited the "historic" U.S.-Afghanistan Strategic Partnership Agreement, which he signed today, and outlined his exit strategy.
Obama spoke of a "future in which war ends and a new chapter begins." Let us remember why we came here, he said, reminding us that bin Laden found a "safe haven" in the country.
Obama outlined the plan to end the war: transitioning responsibility to Afghans, training their security forces, building an "enduring partnership," negotiating peace, and building a global consensus to support peace and stability in South Asia.
"Despite initial success, for a number of reasons this war has taken longer than most anticipated," he said. "Over the last three years, the tide has turned. We broke the Taliban's momentum."
Noting the bin Laden raid, he added, "The goal I set to defeat Al Qaeda is now within reach. […] By the end of 2014 the Afghans will be fully responsible for the security of their country."
He continued: "As we do, our troops will be coming home. Last year, we removed 10,000 U.S. troops from Afghanistan. Another 23,000 will leave by the end of the summer. After that, reductions will continue at a steady pace, with more of our troops coming home.
Obama said, "We will shift into a support role as Afghans step forward." The message the new agreement sends, he said, is "as you stand up, you will not stand alone."
"We will not build permanent bases in this country," he said. "Some people will ask why we need a clear timeline," he continued — answering that, "Our goal is not to build a country in America's image, or to eradicate every vestige of the Taliban. Our goal is to destroy al Qaeda, and we are on a path to do exactly that."
Addressing the sacrifice made by the military, the president said, "I will not keep Americans in harm's way a single day longer than is absolutely required for our national security. […] As President, nothing is more wrenching than signing a letter to a family of the fallen."
Obama continued:
"My fellow Americans, we have traveled through more than a decade under the dark cloud of war. Yet here, in the pre-dawn darkness of Afghanistan, we can see the light of a new day on the horizon. The Iraq War is over. The number of our troops in harm's way has been cut in half, and more will be coming home soon. We have a clear path to fulfill our mission in Afghanistan, while delivering justice to al Qaeda."
"As we emerge from a decade of conflict abroad and economic crisis at home, it is time to renew America," he said.
Toward the conclusion of his speech, the president said, "This time of war began in Afghanistan, and this is where it will end."
Watch the president's remarks, via Fox News:

Have a tip we should know? tips@mediaite.com