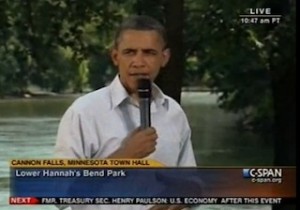 The term "Obamacare" is about as loaded a word as you could possibly imagine in the age of opinion media. On the right, it's used as a way to not just deride the Obama administration's efforts to reform health care, but also runaway spending and "big government." On the left, it's seen as a tell that whomever is using that particular term watches Fox News or listens to Rush Limbaugh. Well, during a town hall appearance today, President Obama weighed in on the term, and let his audience know that its use doesn't bother him at all. Reclaiming the word?
After giving a rather standard speech about the recent gridlock within the Beltway (that sounded an awful lot like a stump speech), Obama took a few questions, one of which focused on medical marijuana. The President took a somewhat oblique angle in his answer by bringing up "obamacare," saying
"I have no problem with folks saying 'Obamacares.'…I do care."
Astute readers will point out that the term in question is "Obamacare," not "Obamacares," and while some will view this like a kid answering playground bullies by saying, "Yes, I am a homo…a homo sapien," the President seemed genuine in his dismissal of the term. After all, the notion that a president should care about his constituents shouldn't be considered such a bad thing, right? Though the President's detractors would quickly opine that it has nothing to do with "care," and more to do with fiscal responsibility.
Either way, there is at least one thing that we can take from the following clip: he feels our pain.
Watch the clip below, courtesy of C-Span:
(H/T
Jake Tapper
)
Have a tip we should know? tips@mediaite.com