President Obama: 'I'd Think About Changing' the Washington Redskins Team Name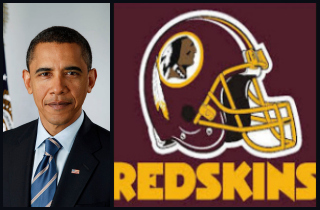 In a recent interview with the Associated Press, President Obama suggested there are legitimate concerns with the Washington Redskins football team name, asserting that if he were an owner of the team himself, he'd consider changing the name as a response to backlash from offended fans and media.
"I don't know whether our attachment to a particular name should override the real legitimate concerns that people have about these things," the president said when asked for his take.
"If I were the owner of the team and I knew that there was a name of my team — even if it had a storied history — that was offending a sizable group of people, I'd think about changing it," he added.
-RELATED: ESPN Columnist Defends 'Washington Redskins' Name, Outrage Ensues
The AP interview marked the first time Obama has publicly commented on the controversy surrounding the Redskins name. The team's lawyer, Lanny J. Davis, responded to the president's comments with a statement:
"We at the Redskins respect everyone. But like devoted fans of the Atlanta Braves, the Cleveland Indians and the Chicago Blackhawks (from President Obama's home town), we love our team and its name and, like those fans, we do not intend to disparage or disrespect a racial or ethnic group. The name 'Washington Redskins' is 81 years old — it's our history and legacy and tradition. We Redskins fans sing 'Hail to the Redskins' every Sunday as a word of honor, not disparagement."
Watch Obama's comments below, via AP:
— —
>> Follow Andrew Kirell (@AndrewKirell) on Twitter
Have a tip we should know? [email protected]