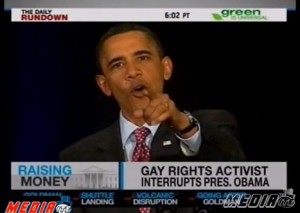 President Obama is famous for keeping his cool, but at a fundraiser for Senator Barbara Boxer (D-Ca) last night, he became visibly angry with gay rights protesters who interrupted his speech with a plea for equality.
He asked the protesters if they wanted to come onstage, then said, "Barbara (Boxer) and I are supportive of repealing 'Don't ask/Don't tell,' so I don't know why you're hollering."
It's a testament to Obama's cool that such a fleeting demonstration of his ire stood out so much, especially when you recall the patience he displayed for Fox News' Brett Baier.
The President seemed affronted by the protesters, and perhaps he had a right to. Obama has a much better record of achievement on LGBT rights than any other President, even just recently signing a memorandum extending hospital visitation and other rights to same-sex partners. He probably feels like there should be no doubt as to whose corner he is in.
However, as Kerry Eleveld points out, progress on DADT has been fitful, gaining momentum with highly-publicized announcements, then fizzling behind closed doors. The LGBT community's impatience with this issue is underscored by the fact that, just this hour, Eleveld reports that Lt. Dan Choi and 5 other vets have again chained themselves to the White House fence.
Also problematic for the President is his thread-the-needle Frankenstance on the issue of gay marriage, and the fact that some of his achievements are viewed by the community as half-measures.
I think President Obama overestimates the amount of goodwill he is owed by the LGBT community, just as I think the LGBT community doesn't take into consideration the degree to which they are better off if Obama simply stays out of the way on gay issues.
Have a tip we should know? tips@mediaite.com