President Obama: Not Sure Why The GOP Is Suddenly Opposed To A Middle Class Tax Break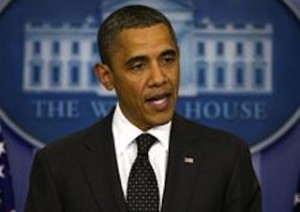 President Obama addressed the White House press corps earlier today and calmly called out what he saw as the GOP's hypocritical stance on extension of payroll tax breaks set to expire at the end of the year. In a classic Obama rhetorical flourish, the president acknowledged that his political foes may opposed raising any taxes before asking why there's a catch "when it comes to middle class families?" In terms of political gamesmanship, the White House aggressive position on payroll tax breaks has put the GOP back on their heels on an issue near and dear to their core belief system.
A transcript of the political essence of President Obama's speech is below, with a video to follow:
Although the unemployment rate went down last month, our recovery is still fragile. The situation in Europe has added to that uncertainty. that's why the majority of the economists believe it's important to extend the payroll tax cut. Those economists would lower their growth estimates for our economy if it doesn't happen. Not only is extending the payroll tax cut important for the economy as a whole, it's obviously important for individual families. It's important insurance for them against the unexpected. It will help families pay their bills. It will spur spending. It will spur hiring. It's the right thing to do.

That's why in my jobs bill I proposed not only extending the tax cut but expanding it to give a typical working family a tax cut of $1500 next year. It was paid for by asking a little more from millionaires and billionaires. A few hundred thousand people paying a little bit more could have not only extended the existing payroll tax cut but expanded it. Last week virtually every senate Republican voted against that tax cut.

Now, I know many Republicans have sworn an oath never to raise taxes as long as they live. How could it be that the only time there's a catch is when it comes to raising taxes on middle class families? how can you fight tooth and nail to protect high-end tax breaks for the wealthiest Americans and yet barely lift a finger to prevent taxes going up for 160 million Americans who really need the up help? It doesn't make sense.

Now, the good news is I think the American people's voices are starting to get through in this time. I know that last week Speaker Boehner said this tax cut helps the economy because it allows every working American to keep more of their money. I know that over the weekend Senate Republican leaders said we shouldn't raise taxing on working people going into next year. i couldn't agree more. I hope that the rest of their Republican colleagues come around and join Democrats to pass these tax cuts and put money back into the pockets of working Americans.

Now, some Republicans who have pushed back against the idea of extending this payroll tax cut have said we have to pay for these tax cuts. I just point out that they haven't always felt that way. Over the last decade they didn't feel the need to pay for massive tax cuts for the wealthiest Americans, which is one of the reasons we face such large deficits.

Indeed when the Republicans took over the house at the beginning of this year, they explicitly changed the rules to say that tax cuts don't have to be paid for. So forgive me for a little bit of confusion when I hear folks insisting on tax cuts being paid for. Having said that, we all recognize that we've got to make progress on the deficit, and I'm willing to work with republicans to extend the payroll tax cut in a responsible way.
Have a tip we should know? [email protected]