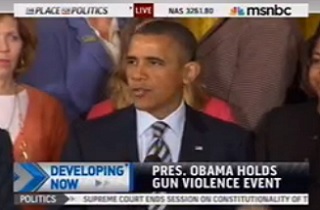 Speaking from East Room of The White House Thursday afternoon, President Obama gave a speech urging Americans to pressure members of Congress to vote on, and pass, the sensible gun regulations that are currently making their way through the U.S. Senate. One theme of the speech was the notion that the public urgency on gun regulation, which built in the wake of the tragic mass killing of 20 children and 6 adults at Sandy Hook Elementary School, might be dissipating. "I have not forgotten those kids," the President said. "Shame on us if we have forgotten."
The President emphasized the overwhelming support for universal background checks in his speech, and urged Americans to "find out where your member of Congress stands on these ideas. If they are not part of that 90% who agree that we should make it harder for a criminal, or someone with a severe mental illness, to buy a gun, you should ask them, why not? Why are you part of the 10%?"
President Obama added, emphatically, "There is absolutely no reason why we cannot get this done."
The President has given many speeches about gun violence since the shooting at Sandy Hook, but this afternoon, displayed something approaching anger when he discussed the so-called "Connecticut Effect."
"I read an article just the other day," President Obama said, "wondering… has Washington missed its opportunity, because as time goes on after Newtown, somehow people start moving on and forgetting. Let me tell you, the people here do not forget."
You could hear a pin drop as he continued. "Grace's dad is not forgetting. Her mom is not forgetting. The notion that something as horrific as what happened in Newtown happens, and we have moved on to other things in two or three months? That is not who we are. That is not who we are."
"I want to make sure every American is listening today," Obama continued. "Less than 100 days ago, that happened. And the entire country was shocked. And the entire country pledged we would do something, and that this time would be different. Shame on us if we have forgotten."
The President paused, emotionally. "I have not forgotten those kids. Shame on us if we have forgotten," he repeated.
As the vote on the Senate bill, and accompanying amendments, approaches, proponents of gun regulation have looked to the President to pressure reluctant legislators to vote on all of the measures that the Biden task force recommended. The President's forceful speech this afternoon is an important step in fulfilling that promise.
Here's the video of that speech, from MSNBC:
Follow Tommy Christopher (@TommyXtopher) on Twitter.
Have a tip we should know? tips@mediaite.com