President Obama Refuses To Call Mitt Romney A Liar In Diane Sawyer Interview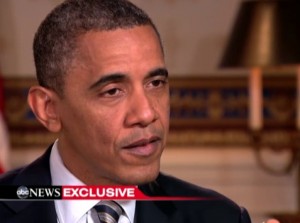 In an exclusive interview with ABC World News' Diane Sawyer (previewed here), President Barack Obama ever-so-gently nudged the rival Republican ticket of Mitt Romney and Paul Ryan, professorially pointing out Romney's "clouding" of issues and Ryan's "effective(ness)" as a speaker and "wrong ideas," but stopped short of calling either man a liar, despite Diane Sawyer really, really wanting him to. The President also had some advice for Vice President Joe Biden for tonight's debate, and an emphatic reply to the question "Is it possible you handed the election to Mitt Romney" with that debate performance.
"No," the President answered, and asked "You will win?" gave a Joe Namath-lite "Yes."
Diane Sawyer spent a good long time questioning the President about the fallout from that debate, but very little on the substance of it. The President copped to having a "bad night," and delivered an eerie echo to John McCain's fateful 2008 declaration that "the fundamentals of the economy are strong" when he told Sawyer that "fundamentals of what this race is about haven't changed."
The President went on to say that "If you have a bad game you just move on, you look forward to the next one, and it makes you that much more determined."
One of the weird phenomena that has emerged in politics is the radioactivity of any and all forms of the word "lie," just as lying reaches bubonic proportions, and that phenomenon was on absurd display here, as President Obama used pillow-soft euphemisms to describe his opponent's dishonesty, while Sawyer tried her best to goad Obama into saying the magic word.
The President called Romney's debate performance a "sales pitch," and accused him of "hiding the ideas that he's been running on for the last year," and when Sawyer asked about Romney's spectacular gymnastics on abortion yesterday, Obama said "Four weeks before an election, he is trying to cloud the question, because he understands that most women think they can make their own health care decisions."
"But is it a lie?" Sawyer asked, eagerly.
The President side-stepped that question, responding "No, I actually think — when it comes to women's rights to control their own health care decisions, you know, what he has been saying is exactly what he believes."
On the vice-presidential debate, the President offered that "I think Joe just needs to be Joe," and launched this vicious broadside at Paul Ryan: "Congressman Ryan is a smart and effective speaker, but his ideas are the wrong ones."
He also said he was looking forward to hos next debate with Romney, which he anticipated would be like a "Powerpoint presentation." Damn, Romney, you need some aloe-vera for that BURN?
It should be obvious to the President's supporters that he will never be the brawler that they sometimes want him to be, but come on! Don't bring candy and a Hallmark card to a knife fight!
What's more bewildering, though, is the sudden case of cooties that's been conferred to the word "liar," by politicians and the press. Diane Sawyer knew that if President Obama called Romney's abortion statements a "lie," she'd have a major "get" on her hands. Why? Paul Ryan is going around saying "They're just going to call us liars," as if that's not something you should do to a couple of liars. Why?
While he did a spectacularly mediocre job of attacking Romney and Ryan, the President did have a very strong moment in the interview, when Sawyer asked him if he "want(s) it more than the first time."
"Absolutely," the President said, and emotionally recounted meeting a waiter who thanked him for achieving health care reform, which the man said had saved his mother's life. "That's who I'm fighting for."
Hopefully, he remembers that at the next two debates.
Here's the interview, from ABC World News:
Have a tip we should know? [email protected]