President Obama Responds To GOP Candidates' Support For Waterboarding: 'They're Wrong'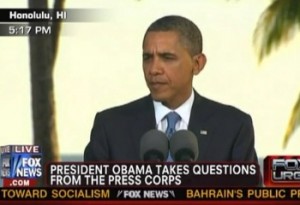 At a press conference in Hawaii Sunday evening, President Obama was asked to respond to the support for waterboarding expressed by Herman Cain and Michele Bachmann at Saturday night's Republican debate.
Asked for his stance on torture, Cain responded Saturday night, "I do not agree with torture, period. However, I will trust the judgment of our military leaders to determine what is torture, and what is not torture."
He was then asked if he believed that waterboarding is torture, or simply an "enhanced interrogation technique."
"I agree that it was an enhanced interrogation technique," Cain replied. "I would return to that policy, I don't see it as torture, I see it as an enhanced interrogation technique."
Rep. Michele Bachmann said that, as president, she would be willing to use waterboarding, and that the technique had been "effective."
Rep. Ron Paul and former Utah Gov. Jon Huntsman, by contrast, said they believed waterboarding to be torture, and both opposed its use.
CNN's Dan Lothian asked President Obama to respond to Cain and Bachmann, saying, "Last night at the Republican debate, some of the hopefuls that hope to get your job… defended the practice of waterboarding, which is a practice you banned in 2009.
Lothian related Cain's and Bachmann's remarks, then asked, I wonder if you think they're uninformed, out of touch, or irresponsible?"
The President paused, then quipped, "That's a multiple choice question, isn't it?" to laughs from the press.
"Let me say this," he began, "they are wrong."
"Waterboarding is torture," the President continued. "It is contrary to America's tradition, it's contrary to our ideals. That's not who we are. That's not how we operate. We don't need it in order to prosecute the war on terrorism. We did the right thing by ending that practice. If we want to lead around the world part of our leadership is setting a good example. Anybody who read about and understands the practice of waterboarding would say that is torture. That's not something we do, period."
While the President's answer is unlikely to please those in the Republican debate crowd who applauded the use of waterboarding, it certainly won't surprise them. They might, however, take issue with Lothian's phrasing of the question, which pointedly did not include any positive descriptors. However, the use of provocative questions like this is a common journalistic technique, and the President certainly felt free to volunteer an adjective of his own: wrong.
Here's the clip, from Fox News Channel:
Have a tip we should know? tips@mediaite.com