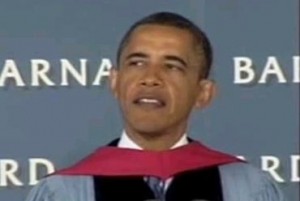 President Barack Obama spoke to the graduating class of Barnard College on Monday, where he decried the state of the news media and its persistent focus on negative stories. "Faith in our institutions has never been lower," said Obama. "Particularly when good news doesn't' get the same kinds of ratings as bad news anymore."

RELATED: Romney Commencement Address At Liberty University: Marriage Is 'Between One Man And One Woman'
In his commencement address to Barnard College's class of 2012, President Obama warned the students at the women's college that the future can appear at times to be dim, but he appeared to blame the media for its continual focus on bad news:
And while opportunities for women have grown exponentially over the last 30 years, as young people—in many ways—you have it even tougher than we did. This recession has been more brutal. The job losses steeper. Politics seems nastier. Congress more gridlocked than ever. Some folks in the financial world have not exactly been model corporate citizens. Faith in our institutions has never been lower. Particularly when good news doesn't get the same kinds of ratings as bad news anymore.
Obama went on to tell the students that they had the potential to persevere in the face of negative media coverage:
Every day, you receive a steady stream of sensationalism and scandal. The stories with a message that suggest change is impossible. That you can't make a difference. That you won't be able to close that gap between life as it is and life as you want it to be. My job today is to tell you don't believe it. Because, as tough as things have been, I am convinced you are tougher.
Watch this portion of the speech below via CNN:
Have a tip we should know? tips@mediaite.com