President Obama Shreds Romney's Chances With Hispanic Voters In Speech To Latino Group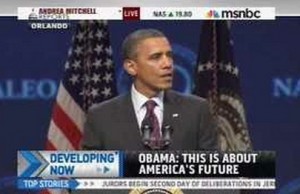 On Friday afternoon, President Obama followed former Massachusetts Governor Mitt Romney's  hotly-anticipated speech to the National Association of Latino Elected and Appointed Officials (NALEO) with his own speech to the group, which presented a golden opportunity to keep Romney on the ropes with Hispanic voters regarding the President's recent immigration policy change. It was also an opportunity to challenge Romney's false claim that it was the President who stood in the way of comprehensive immigration reform, rather than Romney's Republicans.
It was a week ago today that President Obama shot immigration up to the top of the presidential campaign with his announcement of a major immigration enforcement policy change, one which allows young undocumented immigrants to apply for deportation relief, if they meet the requirements of the DREAM Act. Since then, Mitt Romney has doggedly refused to say whether he will reverse that policy change if he's elected.
In his speech today, President Obama spent a great deal of time laying out his economic plans for the country, and applying it to the Latino community. Notably, the President emphasized not only the "choice" election he's been promoting all along (as opposed to a referendum on the economy), but also his "vision" for America's economic future, a term that reflects recent polling advantages.
But the real meat of the speech was his direct challenge to rival Mitt Romney, whom he didn't reference by name, but rather referred to as "your speaker from yesterday" or "the man at the top of their ticket."
The President rebutted Romney's assertions that he hadn't done anything on immigration. "Just six years ago," the President said, "an unlikely trio, John Mccain, Ted Kennedy, and President Bush, came together to consider comprehensive immigration reform. I, along with a lot of Democrats, were proud to join 23 Senate Republicans in voting for it. Today, those same Republicans have been driven away from the table by a small faction of their own party."
That line drew applause from the crowd, which is not a good sign for the effectiveness of Romney's Thursday speech in bridging the huge polling gap he has with Hispanic voters.
The President followed up by talking about his recent policy change.  "In the face of a Congress that refuses to do anything on immigration, I've said that i'll take action wherever I can. My administration has been doing what we can without the help of Congress for more than three years now. Last week we took another step. On Friday, we announced that we're lifting the shadow of deportation from deserving young people who are brought to this country as children."
He also responded directly to the absurd criticism that Republicans are making, that his policy change was somehow unnecessary, had he but asked them to pass the DREAM Act. "We should have passed the DREAM Act a long time ago," President Obama said. "It was written by members of both parties. When it came up for a vote, a year and a half ago, Republicans in congress blocked it. The bill hadn't changed. The need hadn't changed. The only thing that changed was the politics."
"For those who say we should do this in a bipartisan fashion," he later added, "Absolutely. My door has been open for three and a half years. They know where to find me. I've said time and again, send me the DREAM Act. I will sign it right away."
Most devastatingly, though, the President exposed Mitt Romney's dance on the DREAM Act as the empty spectacle it is. "Your speaker from yesterday has a different view," the President said. "In his speech, he said that when he makes a promise to you he'll keep it. Well, he has promised to veto the DREAM Act, and we should take him at his word."
Judging from the crowd's reaction, the President's speech nullified whatever inroads Romney made with Hispanic voters Thursday, if he, indeed, made any.
Here's the speech, in two parts:
Part one:
Part Two:
Follow Tommy Christopher (@TommyXtopher) on Twitter.
Have a tip we should know? tips@mediaite.com