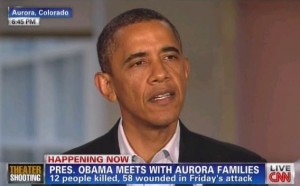 After meeting with the victims of Friday's shooting and their families at the University of Colorado Hospital in Aurora, President Obama made an address at the hospital that mostly focused on the bravery and resilience of the victims. The president thanked the Aurora police department and other officials involved in the shooting case, as well as the hospital staff who tended to the wounded.
RELATED: President Obama Addresses Tragic Aurora Movie Theater Shooting
Obama said he was speaking "not as a president, but as a father," and tragedies like this make us think of our own families and appreciate them all the more.
The president said his main task was to "serve as a representative of the entire country" to tell the victims and their families that everyone is keeping them in their thoughts and their hearts. He expressed hope that the name of the shooter will "fade away" and promised he would face the "full force of our justice system," adding that hopefully when people look back on the tragic events last week, they will remember the victims more than the man who attacked them.
Obama applauded the hospital staff for taking care of the wounded, remarking that "even in the darkest of days, life continues." The president highlighted the story of a 19-year-old girl who he talked with in the hospital just before his speech. After she was shot in the neck, her friend laid down beside her and applied pressure to her wound as shots were being fired around them.
The president wrapped his remarks with a call for reflection.
"I hope that over the next several days, next several weeks, and next several months, we all reflect on how we can do something about some of the senseless violence that ends up marring this country, but also reflect on all the wonderful people who make this the greatest country on earth."
Watch the president's full address below, courtesy of CNN:
Have a tip we should know? tips@mediaite.com
Josh Feldman - Senior Editor