President Obama Takes Resume Of Unemployed Engineer, Wife Says They Still May Not Vote For Him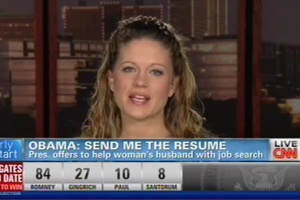 Jennifer Wedel, the woman who became famous when President Obama asked for her unemployed husband's resume during a video chat over the weekend, was a guest on CNN's Early Start Wednesday morning and revealed that she had already passed along the resume to the White House, but said that — even with the President of the United States acting as the wold's most high-profile headhunter — they still may not vote for him in the upcoming election.
Wedel said that Google personally made sure that the resume got to the White House after the chat ("Of course it was ready to go, because he sends it out all the time," she said). On Tuesday, the couple got a call from the Deputy Chief of Staff for Operations, informing them that President Obama personally made it a point to get the resume out to several Dallas Fort-Worth contacts. "Not everyone has Obama as a reference," Wedel noted.
Early Start co-host Zoraida Sambolin then asked Wedel, a life-long Republican, if this gesture by the President might sway her vote in the upcoming election.
"Actually, we're still undecided," Wedel said. "I'm not really sure what we'll do,"
"Even if he gets the job?" Sambolin asked.
"It's nice but…well I mean it is," Wedel, fidgeting a little in her seat, replied. "But we're one person. There's still lots of Americans in my husband's position that don't have jobs." Wedel, before signing off, said that if President Obama maybe did something about the H1B visas, it might sway the couple in his direction.
RELATED: RELATED: Critics Sour Over President Obama's 'Spilled Milk' Joke At The SOTU
After the interview, Ashleigh Banfield revealed that she might have a tiny problem with Wedel's anti-H1B stance:
"You know, I didn't know that she had the issue about the H1B. And, full disclosure, I came to America on an H1B," Banfield explained. "It's a good thing I wasn't doing the interview. Jennifer, I do love you, but that's how I got here. And I'm such a proud immigrant and I'm a proud American. Became an immigrant two years ago and voted in my first election."
Watch a clip of the interview below, courtesy of CNN:
Have a tip we should know? tips@mediaite.com