President Obama To Barbara Walters: Biggest Misconception Is That I'm 'Detached Or Spock-Like'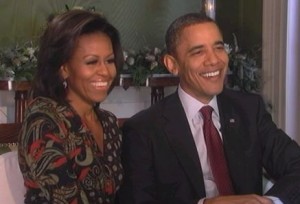 Barbara Walters' interview with Barack and Michelle Obama aired tonight on ABC, and Walters got inside the heads of the president and first lady by asking them questions from Vanity Fair's "Proust Questionnaire." She asked the president what his idea for perfect happiness would be. Obama said he's at his peak happiness when he is doing things to make those around him feel happier, while the first lady said it was being surrounded by her family.
RELATED: Awww: President Obama Calls First Lady 'Cute' Following Ft. Bragg Introduction
She admitted that over the years she has grown more patient with her family, and her husband acknowledged that she has mellowed out since he was elected to the presidency. As for the president's greatest regrets, the Commander-in-Chief wished he would have learned how to play a musical instrument when he was younger and focused more on learning how to speak Spanish in grade school.
When asked to name his biggest peeve about his wife, the president played it like a politician and said he didn't have one. However, he did have some thoughts on what the biggest misconception about him is.
"Detached or Spock-like or very analytical. I think that's a misconception about me. I'm a softy. Stuff can choke me up very easily. My girls, for example."
Walters asked the president and first lady when they would justify telling lies. The president admitted to telling small personal lies to family members about their personal appearance. He went on to talk about laziness being one of his weaker traits, while the first lady admitted her disdain for people who are unwilling to compromise.
RELATED: President Obama Admits To Barbara Walters: Deep Down 'There's A Laziness In Me'
Of course, no holiday season would be complete without mention of cute little animals, and when Walters asked the first lady what she would like to be reincarnated as after death, she immediately decided on the family dog Bo.
Watch the video below, courtesy of ABC:
Have a tip we should know? tips@mediaite.com
Josh Feldman - Senior Editor