President Obama Tells Unemployed Engineer's Wife: 'Send Me Your Husband's Resume'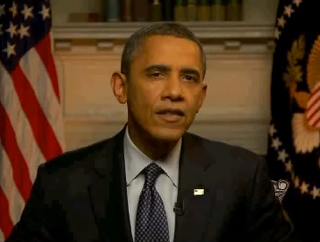 President Barack Obama had a virtual intimate talk with a number of Americans this afternoon in a "Google hangout," where he received questions from an audience over the computer. One guest in the hangout asked about worker visas in engineering, and gave the President the anecdote of her husband's three years of temporary employment despite being an engineer. "Send me your husband's resume," replied the President.
A woman named Jennifer described her husband's situation to President Obama– that he was an engineer (a semiconductor engineer, she later elaborated), who had not been able to find permanent work in three years. Given his education level and the national demand for engineers, she asked the President why visas were still given to foreigners who have the same skill set when worthy Americans are still unemployed.
The President responded that he thought it interesting given his meetings with industry leaders. "There is a huge demand around the country for engineers," he told her, though adding that "obviously, there are different kinds of engineers," so the general category doesn't apply fully. "What industry tells me is that they don't have enough highly skilled engineers," he noted, and continued, "If your husband is in that field, we should get your husband's resume and I'll forward it to some of these companies that are telling me they don't have enough engineers."
Jennifer responded that she still wanted to know why visa programs were so popular with the companies, and the President replied asking what type of engineer her husband is. "It is interesting to me," he replied, asserting that he would "follow up on this" because he had been hearing that a specialist engineer was higher in demand than in supply, and that the visas Jennifer inquired about were only available to companies having problems finding said engineers. "And I meant what I said," the President reminded her, "if your send me your husband's resume, I'd be interested in finding out exactly what's happening right there."
The video from today's hangout below:

[h/t RealClear Politics]
Have a tip we should know? [email protected]