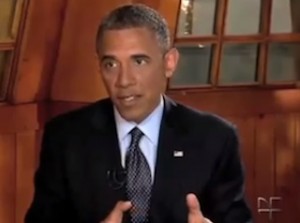 President Obama sat down with Univison's Enrique Acevedo on Friday and was questioned if reelected whether he would make immigration reform a priority. "I can promise that I will try to do it in the first year of my second term," Obama affirmed. "I want to try this year. The challenge we've got on immigration reform is very simple. I've got a majority of Democrats who are prepared to vote for it, and I've got no Republicans who are prepared to vote for it. It's worse than that. We now have a Republican nominee who said that the Arizona laws are a model for the country; that — and these are laws that potentially would allow someone to be stopped and picked up and asked where their citizenship papers are based on an assumption."
RELATED: Actress Eva Longoria, Obama Campaign Co-Chair: Obama Is 'Only Candidate' On The Side Of Latinos
"Racial profiling," interjected Acevedo.
"Very troublesome — and this is something that the Republican nominee has said should be a model for the country," Obama responded.
"What we need is a change either of Congress or we need Republicans to change their mind, and I think this has to be an important debate during — throughout the country. What I've said to Latinos across the United States is that my passion for this issue is undiminished; that when it comes to, for example, the Dream Kids who have been raised as Americans and see themselves as Americans and want to serve their country or are willing to work hard in school and start businesses or work in our laboratories and in our businesses, it is shameful that we cannot get that done. And so I'm just going to keep on pushing as hard as I can, and what I'm going to be encouraging is the Latino community continue to ask every member of Congress where they stand on these issues, but the one thing that I think everybody needs to understand is that this is something I care deeply about. It's personal to me, and I will do everything that I can to try to get it done. But ultimately I'm going to need Congress to help me."
During a fundraiser on Sunday, Romney pressed that Republicans needed to win over Latino voters with their own version of the Dream Act. Talking Points Memo's Pema Levy notes that Marco Rubio is working on such a plan.
"We're going to be able to get Hispanic voters," Romney observed. "We're going to overcome the issue of immigration."
Watch Obama's comments below via Univison:

Have a tip we should know? [email protected]