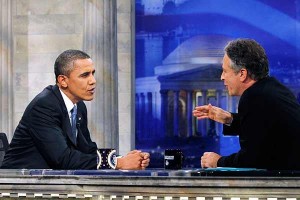 President Obama is slated to pay a visit to Jon Stewart on The Daily Show on Thursday October 18. It marks the president's sixth appearance on the show — and second since taking office.
The last time Obama was on the show was in October 2010.
Comedy Central's press release, below:
NEW YORK, October 12, 2012 — President Barack Obama will make his sixth appearance as a guest on "The Daily Show with Jon Stewart" on Thursday, October 18 at 11:00 p.m. ET/PT, his second since taking office as President of the United States of America. President Obama's last appearance on "The Daily Show" was on October 27, 2010 when the Emmy® and Peabody® Award-winning series taped a week of shows in Washington, D.C. He has also appeared on October 29, 2008, April 21, 2008, August 22, 2007 and November 7, 2005.

"The Daily Show" airs Monday-Thursday at 11:00 p.m. and repeats at 1:00 a.m. the same night and at 10:00 a.m. and 7:30 p.m. the following day (all times ET/PT). Full episodes, as well as clips, are posted for viewing the following day at www.thedailyshow.com with URL and embed links. Fans can follow @TheDailyShow on Twitter or "like" The Daily Show on Facebook.

Jon Stewart and Rory Albanese are the Executive Producers of "The Daily Show with Jon Stewart" with Steve Bodow, Kahane Cooperman, Jennifer Flanz and Adam Lowitt serving as Co-Executive Producers. Supervising Producers are Tim Carvell, Pam DePace, Tim Greenberg, Hillary Kun and Stuart Miller. Jill Katz is Producer and Executive in Charge of Production. The series' Head Writer is Carvell and it is directed by Chuck O'Neil.
Have a tip we should know? tips@mediaite.com