President Obama To Buy A Chevy Volt '5 Years From Now When I'm Not President Anymore'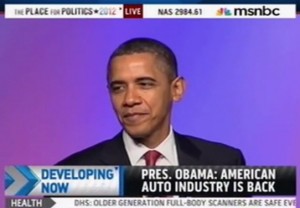 Thanks to Newt Gingrich's recent campaign quip, the Chevy Volt has become something of a political hot topic, even spawning a hugely popular viral parody video. At a speech to the United Auto Workers in Washington, DC, today, President Obama got into the act, celebrating the comeback of the auto industry, and extolling the virtues of Chevy's electric car, promising the crowd "five years from now, when I'm not President anymore, I'll buy one and drive it myself."
Fading presidential contender Newt Gingrich recently quipped that President Obama's energy policy is flawed because "You can't put a gun rack in a Chevy Volt," which turned out not to be true. The broader theme of the energy debate, though, is over whether the government should invest in alternative energy sources and drill for more domestic oil, or just drill. The rescue of the auto industry also figures to play prominently in tonight's Michigan primary, and in November.
During a speech at the United Auto Workers Conference at the DC Marriott Wardman Park Hotel, site of the recent Conservative Political Action Conference, President Obama really pulled the crowd. He took a swipe at Mitt Romney, reminding attendees that "Some even said we should 'let Detroit go bankrupt.'"
To boos from the crowd, he continued, "You remember that? You know.  Think about what that choice would have meant for this country, if we had turned our backs on you, if America had thrown in the towel, if GM and Chrysler had gone under.  The suppliers, the distributors that get their business from these companies, they would have died off.  Then even Ford could have gone down as well.  Production shut down.  Factories shuttered.  Once-proud companies chopped up and sold off for scraps.  And all of you, the men and women who built these companies with your own hands, would have been hung out to dry."
But the biggest reaction was reserved for the Volt line. "I got to get inside a brand-new Chevy Volt fresh off the line — even though Secret Service wouldn't let me drive it," the President said, to laughs from the crowd. "But I liked sitting in it. It was nice.  I'll bet it drives real good.  And five years from now when I'm not President anymore, I'll buy one and drive it myself."
The reaction, of course, had more to do with the President's implicit prediction of a second term than with the Volt. They began to chant "Four more years!"
Now, if there are those among you who doubt that Barack Obama will actually be purchasing a Chevy Volt on Jan. 24, 2017, I won't argue with you too hard. All I'll say is, if you're Mitt Romney, don't try to bet me $10,000 he won't.
Here's the clip, from MSNBC:
(h/t)
Have a tip we should know? tips@mediaite.com