President Obama To Leno: 'White House Is Going To Get Egged If We Keep This Up'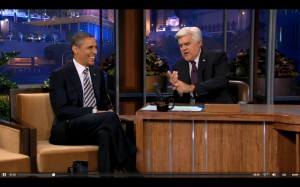 President Barack Obama was a guest on The Tonight Show With Jay Leno Tuesday night and hit on a wide range of topics, from pulling the troops in Iraq to working out in the gym every morning with his wife. Leno asked about Occupy Wall Street — which Obama said he can understand, as people are frustrated — and even who he likes in the World Series (since the White Sox are out, he doesn't really care who wins). Some of his strongest moments came in the third of the three segments, when Leno asked more loose, personal questions, but the first two were still a little revealing.
Early in the show, Obama expressed dismay at the public images of Moammar Gaddafi's dead body being displayed, saying that, "there was a reason, after Bin Laden was killed, that we didn't release the photograph. I think that there is a certain decorum with which you treat the dead, even if it's somebody who has done terrible things." He stuck up for Joe Biden, calling his Vice President a great adviser and friend. And he shut down rumors of a Hillary Clinton-for-Biden swap on his ticket.
Later, Obama said he could understand why people were taking to the streets in Occupy protests, noting that, "people are frustrated, and that frustration has expressed itself in a lot of different ways. It expressed itself in the tea party and it's expressing itself in Occupy Wall Street." He told Leno that leaders across the board — in banks, Wall Street, and Washington — need to "understand that the American people feel like nobody's looking out for them right now." He said any help he can give with spurring the economy and getting more jobs out there would help to get the protesters working and, naturally, quell the protesting.
In the final segment, Leno led by peppering Obama on his relationship with his wife, Michelle. The President said that she is up before him working out in the mornings, and when he joins her, she's already run eight or ten miles. When pressed about how healthy she is, Obama explained to Leno that it might end up hurting the couple on Halloween. "She's been giving, for the last few years, fruits and raisins in the bag. And i said, 'The White House is going to get egged if we keep this up!' We need to throw some candy in there. A couple Reese's Pieces."
Obama then went on to joke that he doesn't like reality TV because his experience has been a show on CSPAN called "Congress." and the two wrapped up their talk with Obama hoping that the millionaire owners and players of the NBA can settle their lockout, so the fans can have it back.
Enjoy the video of the third segment below, courtesy of NBC:
Have a tip we should know? tips@mediaite.com