President Obama To Univisión: 'I Don't Mind A Debate' About Drug Legalization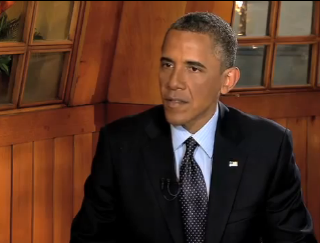 With this weekend marking the beginning of the Summit of the Americas in Colombia, President Obama has been making the rounds on Latin American television, and sat down with Univisión's Enrique Acevedo in Colombia last night to talk immigration, drug policy, and racial tensions in America. He promised to "try to" pass immigration reform within the first year of his second term, and conceded that, while he did not think drug legalization "is going to be the answer," "I don't mind a debate" about it.

RELATED: Newt Gingrich: Obama's Weighing Into Trayvon Martin Murder 'Very Dangerous'
"Everywhere around the world we try to promote a single set of universal values," the President tells Acevedo, warning that the official stance of America towards free democracy does not stop and wanting elections. "There are times where we don't feel as if elections alone are enough," he noted, "there's a tendency to think that once you have an election done, democracy is complete." They then spoke about the war on drugs, and President Obama encouraged, in some ways, debate. "I don't mind a debate on issues such as decriminalization," the President noted, especially "given the pressures that a lot of governments are under here… it's completely understandable that they would look for new approaches and we want to cooperate with them." He did clarify that he was not among those who believed legalization "is going to be the answer."
As for immigration reform– which Acevedo asked about in on a personal level– the President said he "promise[d] to try to do it in the first year of my second term… I wanted to do it this year!" He noted that "I've got a majority of Democrats that would vote for it, and no Republicans," which was problematic.
The clip via Univisión below (the full interview will air tomorrow on Sunday morning show Al Punto):

Have a tip we should know? tips@mediaite.com