President Obama Uses George Romney In Challenging Mitt Romney To Open Books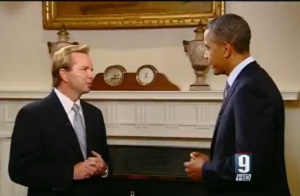 At the White House on Monday, President Obama did a round of interviews with local news anchors from 8 television markets around the country, including New Hampshire's local ABC station, WMUR. In that interview, anchor Josh McElveen asked the President if he thinks it's unpatriotic for someone to have a Swiss bank account, and Obama replied by challenging Mitt Romney to be an "open book," just like every presidential candidate "dating back to Mr. Romney's father."
Former Massachusetts Gov. Mitt Romney has been under ever-increasing scrutiny over his offshore financial holdings, including a Swiss bank account. Gov. Romney has so far released only one year of tax returns, plus an estimate for 2011, under pressure from his
Republican primary rivals.
McElveen began by asking the President about that Swiss bank account, which appeared on Romney's 2010, but not on his 2011 estimate. "Is it your belief that it's unpatriotic for someone to have a Swiss bank account?" the anchor asked.
"Well, you know, I think what's important, if you are running for president," President Obama began, "is that the American people know who you are, what you've done, and that you're an open book. And that's been true of every presidential candidate, dating back to Mr. Romney's father."
George Romney famously set the standard for this type of disclosure by releasing 12 years worth of returns during his unsuccessful 1968 run for president. At the time, he said "One year could be a fluke, perhaps done for show."
McElveen also asked about the uneventful Democratic Veepstakes, asking the President if he was "100% settled" on his running mate.
In the least surprising answer of the year, the President replied, "Yeah, he's a guy named Joe Biden, who's been at my side for every tough decision I made, who could not have been a better vice-president. He continues to have my complete and absolute trust, and I expect to serve with him for another four years."
The President finished up with a bit of electoral sucking up, telling McElveen that the most important state in the electoral process is "the Granite State of New Hampshire. It's full of hard working people, and outstanding farmers and manufacturers, and you know, folks who take their politics pretty seriously."
Here's the clip, from WMUR:
Have a tip we should know? tips@mediaite.com