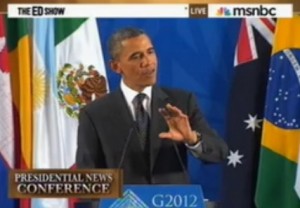 President Obama took a few questions following remarks at the close of the G20 summit in Los Cabos, Mexico, and while the President couldn't dazzle the folks at Fox News, there was one rather dramatic moment. Asked about an op-ed written by a chief adviser to Republican rival Mitt Romney that undercut the US position on Europe's economy, the President said "I would point out that we have one president at a time. And one administration at a time. And I think traditionally, America's political differences end at the water's edge."
Much of the "news" that comes out of summits like the G20 is necessarily "making good progress" boilerplate that isn't just designed to bore the crap out of Bill O'Reilly, but to maintain delicate diplomatic and global market balances. That's one of the reasons for the maxim that President Obama quotes, because a president is accountable for how his words affect events around the globe, but a political candidate is not, and doesn't have all of the facts available to him. This doesn't necessarily apply to broad matters of foreign policy, but more to meddling in specific, ongoing situations.
White House senior advisor David Plouffe already addressed the op-ed, by Romney adviser Glenn Hubbard, on Sunday's This Week, calling it "unprecedented and unbelievable."
Bloomberg's Julianna Goldman asked the President two questions, one of which was "One of Mitt Romney's economic advisers wrote that your recommendations to Europe and Germany in particular reveal ignorance of the causes of the crisis and he said that they have the same flaws as your own economic policies. I want to get your response to that."
The President responded, with weary frustration, "Well, you know, first of all, with respect to Mr. Romney's advisers, I would suggest you go talk to Mr. Romney about his advisers."
"I would point out," he continued, "that we have one president at a time. And one administration at a time. And I think traditionally, the notion has been that America's political differences end at the water's edge."
The President went on to question Hubbard's knowledge of the situation, saying "I would also suggest that he may not be familiar with what our suggestions to the Germans have been. And I think sometimes back home, there's a desire to superimpose whatever idealogical arguments are taking place back home onto a very complicated situation in Europe."
He continued to speak about the situation in Europe, then remembered "You had another question, what was it?"
Politically, the President's stern warning to Romney could give the former Massachusetts Governor an opening to energize his base by casting this as a heavy-handed chill, but on balance, this was a strong moment for the President. How Romney responds will determine how strong. It's an argument that Romney will lose, so his best course is to avoid it.
Interestingly, the last time Barack Obama had to remind someone that there's "one president at a time," it was in 2008, during his transition as President-Elect, when the press asked him to weigh in on foreign policy matters as the Bush administration waned.
Here's the clip, from MSNBC:
Follow Tommy Christopher (@TommyXtopher) on Twitter.
Have a tip we should know? tips@mediaite.com