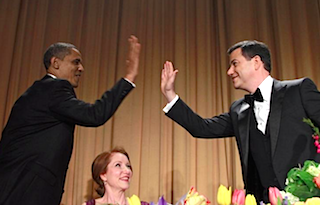 President Barack Obama is finally scheduled to make his way onto ABC's Jimmy Kimmel Live this week after canceling a surprise appearance on late notice last summer. The president will sit down with Jimmy Kimmel in his Los Angeles studio on Thursday night, March 12.
The interview will mark Obama's second official appearance on the show, but the first came via satellite in June 2008, before he was elected president for the first time. The two men also shared the stage at the 2012 White House Correspondents Dinner. First Lady Michelle Obama appeared on the show in October 2012, appearing in a pre-election Get Out the Vote sketch with the host.
Before this week's Kimmel appearance, President Obama has sat down with nearly every other major late night host from David Letterman and Jimmy Fallon to Jon Stewart and most recently Stephen Colbert.
Obama was supposed to sit down with Kimmel in July 2014, but the White House ended up canceling the appearance due to concerns about optics amidst unfolding crises in Ukraine and Gaza. "That is, at least in part, related to the challenges of doing a comedy show in the midst of some of these other more serious matters that the president is dealing with on the international scene," White House Press Secretary Josh Earnest said at the time about the decision.
Following the news of Obama's cancelation, Kimmel delivered a monologue full of digs at the president. "He's here in town to go to fundraisers, where he will spend the evening pretending to care about what celebrities think," the host said. "I feel like the president only comes to LA for money. He's like a college student who comes home to do laundry and steal food from the refrigerator."
Watch video below, via ABC:
[Photo via AP]
— —
>> Follow Matt Wilstein (@TheMattWilstein) on Twitter
Have a tip we should know? tips@mediaite.com