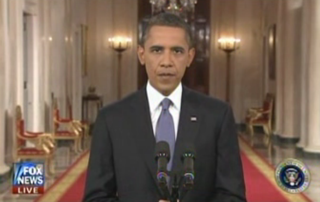 President Obama addressed America from the East Room of the White House today with the news that 10,000 American troops will be withdrawn from Afghanistan by the end of 2011, and 33,000 by summer 2012. He also warned that he would not tolerate "terorrist safe-havens" in Pakistan and that his focus as the troops come home will be domestic problems.
The President's statement began with the story of the Afghanistan war, and how Al-Qaeda had brought the nation into that region. With that, he announced that "starting next month, we will be able to remove 10,000 of our troops by next year," and "a total of 33,000 troops by next summer, fully recovering the surge I announced at West Point." He also explained that the mission evolved from "combat to support," and that by 2014, "this process will be complete."
Aside from the official troop withdrawal announcement, President Obama also addressed Pakistan and their status as a safe-haven for Al-Qaeda and other terror groups:
Of course, our efforts must also address terrorist safe-havens in Pakistan. No country is more endangered by the presence of violent extremists, which is why we will continue to press Pakistan to expand its participation in securing a more peaceful future for this war-torn region. We will work with the Pakistani government to root out the cancer of violent extremism, and we will insist that it keep its commitments. For there should be no doubt that so long as I am President, the United States will never tolerate a safe-haven for those who aim to kill us: they cannot elude us, nor escape the justice they deserve.
President Obama did not expand upon what "continue to press Pakistan" or "never tolerate a safe-haven" mean, but hinted at further action, most likely reserved for further statements after the Afghanistan situation is sorted out and, perhaps especially, the American situation: "it is time to focus on nation-building here at home," the President added sternly.
The President's full remarks via WireUpdate here, and video via Fox News below:

Have a tip we should know? tips@mediaite.com