President Obama's 1st Post-Election Speech On Fiscal Cliff: I Refuse To Accept Any Approach That Is Not Balanced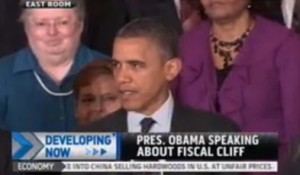 President Obama delivered his first speech since Tuesday's resounding reelection victory, and mere hours after Speaker of the House John Boehner held a press conference on the looming "fiscal cliff" (a combination of the deep sequester cuts that will take effect January 1st if no debt and deficit deal is reached, in addition to the expiration of the Bush tax cuts), in which he attempted to place all of the onus for a deal onto the President.In his speech Friday afternoon, President Obama gave a clear signal that he intends to pursue the policies that got him reelected, and not compromise on a balanced approach to deficit reduction.
Much of the immediate post-election chatter had to do with the strength of the reelected President Barack Obama's mandate, or lack thereof, and today's speech provided the first indications of how the President intends to act on that mandate.
President Obama began by announcing that he has invited congressional leaders to the White House next week to begin working on a way to avoid the "fiscal cliff," and while he said he is not "wedded to every detail" of his own plan, and that he is open to "new ideas," the President was clear that "I refuse to accept any approach that is not balanced. I'm not going to ask students and seniors and middle-class families to pay down the entire deficit, while people like me, making over $250,000, aren't asked to pay a dime more in taxes."
The President also signaled that he feels he has the wind at his back, despite Speaker Boehner's remarks to the contrary. "I just want to point out," he said, "this was a central question during the election. It was debated over and over again. And on Tuesday night, we found out that the majority of Americans agree with my approach. And that includes Democrats, independents and a lot of Republicans across the country, as well as independent economists and budget experts."
President Obama also shifted the framing of the negotiation as a political imperative for Republicans. "I was encouraged to hear Speaker Boehner agree that tax revenue has to be part of this equation, so I look forward to hearing his ideas when I see him next week," he said, then added, "Let me make one final point that every American needs to hear. Right now, if Congress fails to come to an agreement on a deficit package by the end of the year, everybody's taxes will automatically go up on january 1st. Everybody's, including the 98% of Americans who make less than $250,000 a year. And that makes no sense."
How the President's tough stance translates in negotiations remains to be seen, but in the afterglow of his reelection, it doesn't seem like he's willing to give away the store, and Republicans, in the midst of something of an existential panic, are short on leverage.
Here's video of the President's speech in the East Room of The White House, via MSNBC:
Follow Tommy Christopher (@TommyXtopher) on Twitter.
Have a tip we should know? tips@mediaite.com