President Obama's Re-Election Victory Speech: 'I Return To The White House More Determined'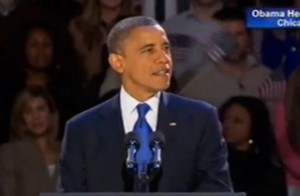 President Barack Obama declared victory in his re-election late Wednesday night, speaking to a crowd of supporters in Chicago. During his speech, he struck a notes of hope and optimism, while still underscoring the work that lies ahead. While democracy can be messy, he said, "I return to the White House more determined."
"The task of perfecting our union moves forward," Obama said. He went on to note that, "in our hearts," we know that the "best is yet to come" for the country.
The president took the time to thank Mitt Romney and Paul Ryan for a "hard-fought campaign" — also applauding the Romney legacy. He also individually thanked Vice President Joe Biden, First Lady Michelle Obama and his two daughters, Malia and Sasha.
While political campaigns can seem "small, even silly," Obama said "elections matter" — but that democracy in a nation of 300 million can be "noisy and messy and complicated." But "these arguments we have are a mark of our liberty," he said.
The president's speech ended on an optimistic and hopeful note. "Progress will come in fits and starts," he said, but pointed to his first term has evidence of progress. "Whether I earned your vote or not, I have listened to you, I have learned from you, and you have made me a better president."
But there's more work to do, he emphasized. "The role of citizen in our democracy doesn't end with your vote."
"America's never been about what can be done for us, but what can be done by us," Obama went on to add. "What makes America exceptional are the bonds that hold together the most diverse nation on earth."
"I've never been more hopeful about our future, about America," Obama said. "I ask you to sustain that hope."
Striking the theme of bipartisanship, Obama ended by noting that "we remain more than a collection of red states and blue states."
"Together with your help and God's grace," he said, "we will continue this journey forward."
The full speech below in three parts, via CNN:

Part 2:

Part 3:

Have a tip we should know? tips@mediaite.com