Presidential Hopeful Buddy Roemer On Debt Crisis: 'It's A Circus…These People Are Clowns.'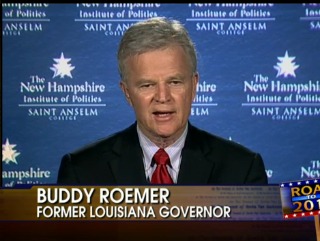 Former Louisiana governor (and, as Fox News' Greta Van Susteren pointed out, former Democrat) Buddy Roemer announced his plans to seek the Republican nomination for president. Van Susteren asked Roemer how he'd handle the current debt deadlock as president, particularly with people being "unbelievably obnoxious to each other" on the Hill.
Roemer took the opportunity to offer criticism of Obama, and of Washington in general:
Only guy running for president who has been both a congressman and governor, only one. I've been there, done that, left there very happily. It's a circus. These people are clowns. They're wearing makeup. They don't tell the truth. There's no plan to reduce the deficit or to manage it.

Your earlier speakers were right; Karl Rove said it. This President has never submitted a budget. How can you have a president that doesn't show any leadership? But, by the way, none of this is the real problem. The real problem is two: One, we're getting eaten alive in international trade from unfair competition. We are losing our best jobs. We are giving them away. We let GE give away 15,000 American jobs and pay no taxes.

…Washington is bought and sold. You know why we don't do these things? You know why we don't revise the budget? You know why we don't check honestly the books? You know why we have a tax code that you can't read? It's because the lobbyists have paid these guys.
When Van Susteren asked again about what leadership role he would take in such an environment, Roemer warned that "the clowns in Washington had better watch out."
Watch the segment, courtesy of Fox News:
Have a tip we should know? tips@mediaite.com