Press Agonizes over 'Culture' of Christie's Admin After Dismissing 'Culture' of Obama's White House
Rothman: Press Agonizes over 'Culture' of Christie's Admin After Dismissing 'Culture' of Obama's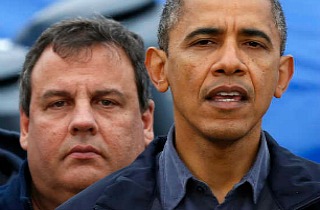 If you caught any news on Thursday, you might be aware that there is a scandal brewing in Trenton.
The press is consumed with the question of just what New Jersey Gov. Chris Christie knew and when he knew it after it was revealed that his aides' were indulging in schadenfreude over the problems the closure of two lanes of the George Washington Bridge in September, 2013 caused the Democratic mayor of Fort Lee. The governor came out forcefully and insisted that he was misled by his staff who had assured him that they did not engage in that type of vindictive behavior. But this explanation is not satisfactory for some politicians and pundits.
Indeed, many in the political and pundit class are asking whether Christie may be culpable for these apparent abuses of power even if he never knew about them. How can they accomplish this feat of prosecution by proxy, you ask? By accusing the governor of presiding over and fostering the creation of a "culture" in which this level of pettiness was rewarded, some in the media have implied that the Christie is, in a tangential way, liable for any abuses of power under his watch.
And that's just a small selection. From MSNBC's Chuck Todd to CNN's Gloria Borger, all echoed the words of Rep. Bill Pascrell (D-NJ) and wrung their hands fretfully over a "culture in Trenton" that supposedly metastasized by virtue of the example set by Christie. Even the Washington Post's national political correspondent, Karen Tumulty, got in on the act.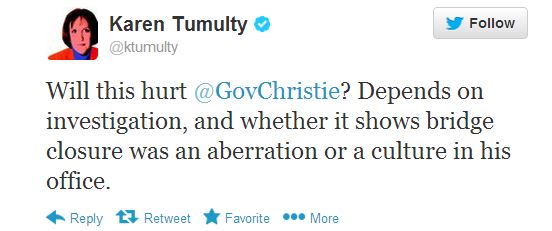 This charge is politically attractive because it is entirely unfalsifiable. There is no way to either prove or disprove that a "culture" of one kind or another exists. It is a charge that hangs in the air and provides partisans with a bias-confirming indictment against their political adversary that they are assured will never be controverted.
Partisan Democrats should recognize this fatuous charge. This was the same argument that Republicans attempted to make against President Barack Obama's administration when it was clear that an investigation into the abuses of the Internal Revenue Service and the Department of Justice would stop short of the Oval Office. If Obama was not directly culpable for the behavior of those agencies, they argued, he was at least partially to blame for nurturing a "culture of corruption." Unsurprisnigly, the press was more skeptical of this charge when Obama was its target.
When, in May of 2013, Sen. Marco Rubio (R-FL) accused the Obama administration of fostering the creation of a "culture" detrimental to national comity, Todd looked askance at him and challenged his assertion.
"Both sides play politics," he said disapprovingly, "and both sides like to try to figure out the motivations of the other side when they are talking to political supporters. This is not new to the American political system, Senator."
Appearing on Meet the Press later that month, Sen. Mitch McConnell (R-KY) used that same tested phrase to attack the White House. "That's a leap that can you make as argument, but you don't have fact to back it up," NBC News anchor David Gregory shot back. "You can talk about a culture — do you have any evidence that the president of the United States directed what you call a culture of intimidation at the IRS to target political opponents?"
Indeed, David. Where was the evidence for this charge beyond the intuition of a handful of Republicans?
These NBC news personalities were correct to recoil at the charge Republicans leveled at the White House at the time. It was a shortcut designed to circumnavigate the facts of each individual controversy touching the presidency in order to fully implicate the president.
Reporters could recognize then that the "culture" argument was logically deficient. So, why can't they recognize the same phenomenon now when the target of this still baseless attack is Christie?
[Photo via AP]
— —
> >Follow Noah Rothman (@NoahCRothman) on Twitter
Have a tip we should know? tips@mediaite.com