Prime Minister Silvio Berlusconi Resigns Amid Nationwide Celebrations In Italy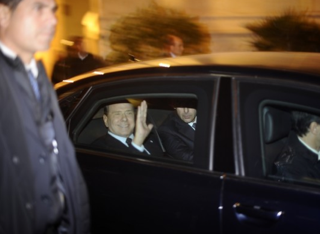 Italian Prime Minister Silvio Berlusconi resigned today after seventeen years in power. After announcing that he would step down earlier in the week, he came to the state house and handed in his resignation, exiting cheerfully while crowds alternatively jeered and made celebratory noises.
The Washington Post reports that this leaves a coalition government led by economist Mario Monti in charge of rebuilding the nation:
The resignation ends a political era punctuated by headlines of Berlusconi's "bunga bunga" sex parties and colorful gaffes. Ultimately forced out of office by a debt crisis instead of personal scandal, the flamboyant billionaire's departure appeared to pave the way for a staid, serious economist, Mario Monti, to attempt to form an interim government and try to pull Italy back from the brink.
According to CBS News, he was jeered repeatedly by some in the crowd:
"Shame!" and "Get Out!" the crowds yelled as Berlusconi and his ministers shuttled from one government palazzo to another.

"Finally" read one of the signs held up in the crowd. "Grazie Napolitano," said another — an indication that, like financial markets, many ordinary Italians had come to the conclusion it was time for Berlusconi to go.
The reports on the ground in video corroborate this, as CNN reports Rome was full of "wild celebrations," with people taking to the streets and cheering for the transition, which comes on the tail of a serious economic problem gripping the entire Eurozone and for which many Italians blamed Berlusconi.
The CNN report below:

[Photo via Washington Post]
Have a tip we should know? tips@mediaite.com