'Principle Or Politics?' The Five Asks Why Americans Changed Their Tune On Civil Liberties From Bush To Obama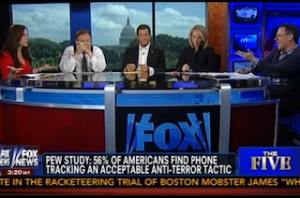 Fox News' The Five traveled all the way down to Washington, D.C. Tuesday for a special show in the nation's capital. And the team used their new setting to explore the implications of a new Pew research poll that shows how Americans' views on civil liberties have shifted depending on which party holds the White House. "There are a buttload of hypocrite Democrats and a fair amount of Republicans too," Greg Gutfeld said up top, "which is why you must ask, are they motivated less by principle and more by politics?"
According to the polls, 37% of Democrats found the NSA's surveillance programs acceptable under President George W. Bush, while 64% find them acceptable under President Obama. Similarly, 75% of Republicans found them acceptable under Bush while only 52% find them acceptable under Obama.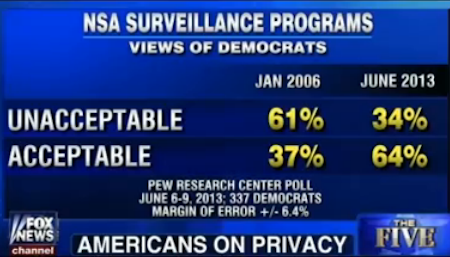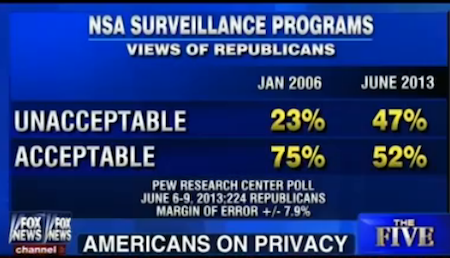 Gutfeld insisted that his support of the programs has been "consistent" no matter who the president is. "You may think I am wrong," he said, "but at least I don't change my tune depending on who's in charge."
Andrea Tantaros said she thinks both "politics" and "principles" are at work in the poll results, which show that people are just more willing to trust the leader for whom they voted.
Reacting much like many of the Republicans in the Pew survey, Eric Bolling argued that because President Obama has escalated the surveillance techniques put in place by Bush, it only follows that he would be more critical of those tactics.
Tantaros got the last word on the issue, using the Pew poll to attack Democrats for being soft on terror. "I would love to know how the left expects us to go after terrorists and keep us safe," she said. "They're not going to acknowledge the War on Terror–if they don't like drone strikes, if they don't like enhanced interrogation, and now they're going crazy about the surveillance program, how do they propose we go after terror?"
While she may be right about "enhanced interrogation," it seems more clear than ever that the leader of the Democratic Party, President Obama, is not about to stop using drone strikes and widespread surveillance to prevent terrorism.
Watch video below, via Fox News:
—
>> Follow Matt Wilstein (@TheMattWilstein) on Twitter
Have a tip we should know? tips@mediaite.com