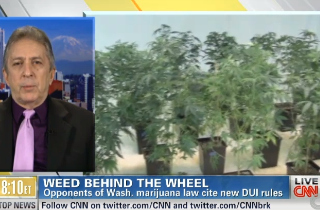 During an appearance on CNN's Starting Point this morning, a pro-pot activist showed up high as a kite to make the point that he is fully able to function under the influence of marijuana, despite a state law that criminalizes THC in drivers' blood.
Cannabis Action Coalition's Steve Sarich explained that he opposes the Washington state law prohibiting driving while having the psychoactive THC in your bloodstream. And because Sarich himself is a medical marijuana user and dispensary owner, host Soledad O'Brien pointedly asked him: "How much of this is your concern from a business perspective about the law, and less a moral perspective about smoking pot?"
"Absolutely none," he responded. "This law criminalizes every single medical marijuana patient every time they drive." He added that studies show that marijuana's psychoactive constituent THC can remain in the blood for weeks after smoking; and thus the law could unfairly punish people who haven't recently used the drug.
The state's new rules would prohibit drivers from having anything above 5 nanograms/mL of THC in their blood. "These laws have no relation to impairment whatsoever," Sarich said.
"I wake up in the morning at probably four-to-five-times the legal limit, which is where I am right now. Hopefully I don't appear too impaired," he continued, highlighting that blood THC content is no indicator of impairment.
"I will always be guilty every time I get behind the wheel," he concluded, "even though I'm not impaired."
Watch below, via CNN:

— —
>>
Follow Andrew Kirell (@AndrewKirell) on Twitter
Have a tip we should know? tips@mediaite.com