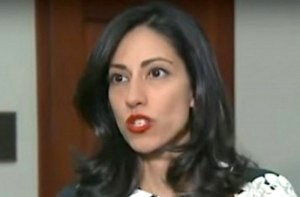 A new ad campaign from the Republican Hindu Coalition attacks Democratic presidential candidate Hillary Clinton on a range of issues of importance to the Indian community, including the fact that Clinton's top aide Huma Abedin is of Pakistani Muslim origin.
The ad from the conservative Hindu group– which is not affiliated with the Republican Party- insists that Clinton is supportive of Pakistan and hateful towards India. "Huma Abedin is of Pakistani origin and will become chief of staff if she wins," it continues, urging voters to vote for Donald Trump instead.
The New York Post reports that the ad will be aired on a series of Indian-language channels, such as Zee TV, TV Asia, and Star TV. In addition, the RHC is mailing 60,000 print ads to Hindu voters in U.S. swing states, claiming that "[the] Chief of Staff in [a] Clinton White House will be Huma Abedin, of Pakistani and Saudi background"
Abedin's mother was born in British India, in what would later became Pakistan, while her father was born in Delhi. There is no indication as of yet that Abedin would actually be tapped as chief of staff, as both ad campaigns claim.
RHC head Shalabh Kumar was unrepentant when contacted by the Post. "Huma in general is as pro-terrorist as you could be … she's got a really dark background. I can't even fathom. I don't understand why Hillary will associate herself with Huma," he said.
Apart from the attacks on her heritage, Abedin faced scrutiny in recent weeks after the FBI announced that emails pertinent to its investigation into the Clinton private email server were found on her husband Anthony Weiner's laptop.
Watch above, via Republican Hindu Coalition.
[Image via screengrab]
—
>>Follow Alex Griswold (@HashtagGriswold) on Twitter
Have a tip we should know? tips@mediaite.com