Prof. Cornel West Tells Ed Schultz That President Obama Is 'Afraid Of Free Black Men'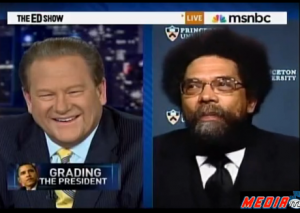 On tonight's The Ed Show, host Ed Schultz invited Princeton University's Professor Cornel West onto the show to "grade the president" on his accomplishments – and his shortcomings – so far. West had previously made a few rather attention-grabbing comments about the President that appeared on Truthdig.com, including that Obama "lacks backbone," that he is a "black mascot of Wall Street oligarchs" and a "black puppet of corporate plutocrats" in addition to being the "head of the American killing machine."
Um. Is this personal?
Well, it's personal only to the degree to which we're talking about the system in place that is rigged at the moment against poor and working people and Obama is the president; he's the head, as it were. But it's certainly not personal in terms of somehow saying that he's outside of the human race or demonizing him.

I am relentlessly criticizing him in the name of the plight and predicament of poor children, mistreated workers, those unfairly incarcerated… And where is the Democratic accountability on the Wall Street oligarchs and the plutocrats, my brother?
So we're not the only ones who refer to Ed as our brother?
Later on in the segment, West continues:
I'm not denying achievements, but keep in mind Brother Ed – and this is where I think you and I agree in some part – that I began with the righteous indignation about the conditions of poor people and working people. They have gotten worse in so many ways, even given the attempt of the Obama administration to move forward.
And, then, Shultz asked West to explain what he meant when he said Obama is "afraid of free black men:"
What I meant by that was that his formation is such that I think he does have a predilection much more towards upper middle class white brothers and Jewish brothers and has a certain distance from free black men who will tell him the truth both about himself as well as what's going on in black communities, brown communities, red communities and poor white and working class communities.
Watch the segment, via MSNBC:
Have a tip we should know? tips@mediaite.com