Prof. Ogletree On 'Hug-Gate': People 'Trying To Find Anything' To Hurt Obama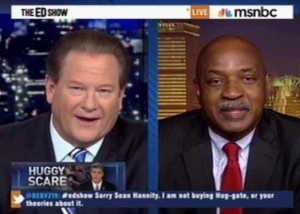 Never in the history of our nation has a hug been so controversial. Barney the Dinosaur would be ashamed, and so is Ed Schultz, who continued to hammer Sean Hannity for pushing the controversy that President Obama has ties to the late, controversial professor Derrick Bell. Professor Charles Ogletree, who had the tape Hannity played on his show, came on The Ed Show today to not only defend himself and Bell, but also accuse the president's most ardent detractors of reaching too much to try and find something to go after him with.
RELATED: Prof. Charles Ogletree Defends Late Prof. Derrick Bell On Alan Colmes Show
Schultz and Ogletree joked about how the tape was hidden under lock and key, except for when it was played on ABC and PBS, and how it's even been on YouTube. Ogletree pointed out how Frontline had to come out and clarify that they used the video in 2008 during Obama's first national election campaign. The professor defended Bell as a generally moderate individual who had a great many fans.
Ogletree dismissed claims that he was part of the Black Power movement in 1970 and wrote for a Black Panther publication sometime around that period as ludicrous, including a claim that during the trial of Black Panther member Angela Davis, he was in the courtroom every day. Then Ogletree called out the president's fiercest rivals for trying too hard to turn the tape into a controversy.
"And it's that sense about people trying to find anything that will hurt this president that makes no sense at all. So I'm going to keep praying for Hannity and all the other folks who have this sense of trying to bring the president down. He's a great man, he's done a great job, he's going to be reelected in November, and no matter what people say, he's going to be the best choice."
Schultz asked Ogletree what he thought about the right's attempt to go after the late professor Bell's character. Ogletree found it disturbing, citing his personal connection to the professor. Schultz determined that "they will never stop anywhere when it comes to trashing people to get their point across to take down this president."
RELATED: Late Prof. Derrick Bell's Widow Defends Him Against Sarah Palin And Co. 'Racist' Smear
Watch the video below, courtesy of MSNBC:
Have a tip we should know? tips@mediaite.com
Josh Feldman - Senior Editor