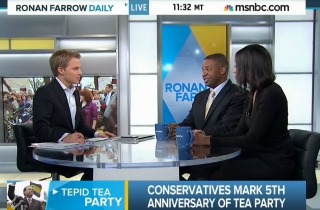 With five years having passed since the first tea party rally in 2009, MSNBC host Ronan Farrow invited two liberal guests on his program to discuss the impact the tea party has had on American politics and its potential to continue to shape events. Tara Dowdell, a political strategist and self-described progressive, warned her fellow liberals that it would be a mistake to write off the tea party because they are likely to have an outsize impact on the coming midterm elections.

Farrow began by briefly recapping the history of the tea party. Afterword, he asked University of Lehigh professor James Peterson what power the tea party has retained to shape American politics. Peterson said that the tea party's "legislative impact may be waning or may have peaked."
"The shutdown seemed to be a real moment where they stumbled out of the gate, shot themselves in the foot, pushed the country to the brink, and people started to say, 'What's happening here?'" Farrow agreed.
RELATED: Coulter Battles Hannity over Tea Party: It's Being Taken Over by 'Shysters and Con Men!'
"I think that the tea party should not be underestimated," Dowdell insisted. "I think that progressives, like myself, have made the mistake of laughing at them and being very dismissive of them."
"That's very dangerous," she added.
Dowdell insisted that, while the tea party has been a "double-edged sword" for the GOP, the upcoming midterm elections provide the tea party with a good environment to drive up turnout and have a major impact on electoral outcomes.
Watch the clip below via MSNBC:
[Photo via screen grab ]
— —
> >Follow Noah Rothman (@NoahCRothman) on Twitter
Have a tip we should know? tips@mediaite.com